November 11, 2013
Letter from A.D. John Currie: Football schedule update; sizzling promotional opportunity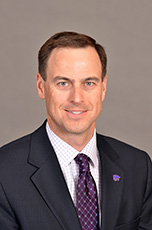 Good morning, K-State Nation.
Another exciting weekend with our second straight Friday night basketball doubleheader. Both squads opened the regular season this weekend as Coach Patterson and our women's squad hosted Tennessee State at 5:45 p.m., followed by our men's team with an 8 p.m. start against Northern Colorado. The women's game was seen live on K-StateHD.TV, while the men's game aired on FOX Sports Kansas City.
Let's get right to the updates this week…
Bring home the bacon
K-State students were afforded a very unique and creative promotional opportunity prior to Friday's women's basketball game as any student who showed their K-State ID received five crispy pieces of bacon – cooked by new Ahearn Fund Student-Athlete Performance Table Chef Michael Moyes. The promotion, the idea of our terrific fan experience and sales staff, created a national buzz last week, which included trending on Twitter, appearances on ESPN's "SportsCenter" and NBC's "The Dan Patrick Show" and stories by ESPN.com, Sporting News, USA Today, National Public Radio and The Wall Street Journal. Approximately 300 pounds of bacon were available.
2014 football schedule update
Early last week, the Big 12 Conference announced the league portion of the 2014 football schedule, and I want to take a few moments to update you on our full schedule. As you know, we have been looking for a third nonconference game to replace UTSA. After several weeks of thorough research and many phone calls around the country, we have secured a FBS opponent for our third nonconference home game. It was very important to us to find a home game as 2014 will be a year in which we play five league road games. In the next week or so be on the lookout for a full schedule release as we work to finalize the complete slate. In the meantime, click here to view the full conference-only schedule for all Big 12 teams. We are excited to host Texas Tech, Oklahoma State, Texas and KU in 2014!
K-State recognized as a top college campus
In a recent article on businessinsider.com, which as of Friday morning was trending with more than one million views, K-State was ranked as the 18th-best college campus in the nation, joining the likes of Princeton, Yale, Stanford and West Point. K-State was the lone Big 12 institution on the list, which looks at various categories from The Princeton Review's 2014 college rankings. We are excited about the future of Kansas State University, with President Schulz's visionary K-State 2025 plan, and an accolade such as this is reinforcement that we are on track to becoming a Top 50 public research institution. Click for the full article on businessinsider.com.
Sports nutritionist hired
For the first time in department history, all 16 of our sport programs and 438 student-athletes will benefit from our new sports nutritionist, Scott Trausch, who was hired recently following a national search. Scott spent the past year as the director of football sports nutrition at Nebraska, where he worked primarily with the football and baseball teams. He previously served as the interim head of football sports nutrition, and also served as a strength and conditioning intern and a sports nutrition intern for the Huskers from 2008 to 2012. With the completion of the new Ahearn Fund Student-Athlete Performance Table, all Wildcat student-athletes will gain from Scott's program and direction. Having a full-time nutritionist on board will provide another winning edge for K-State.
Cats for Cans recap
It was another record-breaking year for our annual Cats for Cans food drive as more than 5,200 pounds of canned goods and $11,000 in monetary donations were gifted in the game against Iowa State. Our Student-Athlete Advisory Committee, or SAAC, has done a terrific job in managing this event each year and appreciates your support of the Flint Hills Breadbasket and fighting hunger in the Manhattan area!
That will do it for today. Congratulations to Coach Casie Maxwell as she and her husband recently welcomed the birth of their first child.
Thanks for all that you do in support of 438 K-State student-athletes, and . . .
Go Cats!
John Currie