TLC Bi-Weekly Newsletter for Tuesday, December 15, 2020
Good morning, K-State!
Congratulations on finishing the Fall semester! The Teaching & Learning Center (TLC) would like to remind you of our commitment to supporting your efforts in teaching, mentoring, and advising. We at the TLC are excited to announce the various priorities, events, and resources that are designed to advance teaching and learning at K-State!
Click HERE to see what the TLC can do for you!
Thank you for all that you do!
Click HERE to see a video from ACUE thanking all resilient educators!
We Are Here For You!
To show our support for K-State instructors, we have designed a professional development series for the Spring 2021 semester that will help you get ready before the semester starts, power through, and finish strong in May! Below are the events we have lined up for January, but remember we are here for you throughout the semester! All events will occur at 12 noon via Zoom: https://ksu.zoom.us/j/93106034653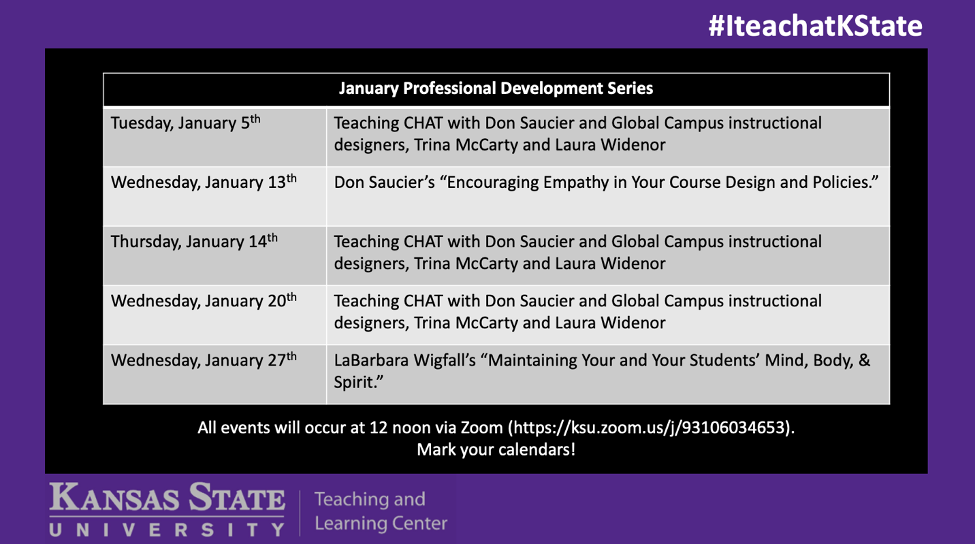 Additionally, there will be a "Safe Zone: Bandwidth Recovery" workshop on Tuesday, January 19th from 8:45AM to noon. Click here for more information. We hope to see you at these events!
TLC Highlighted Teacher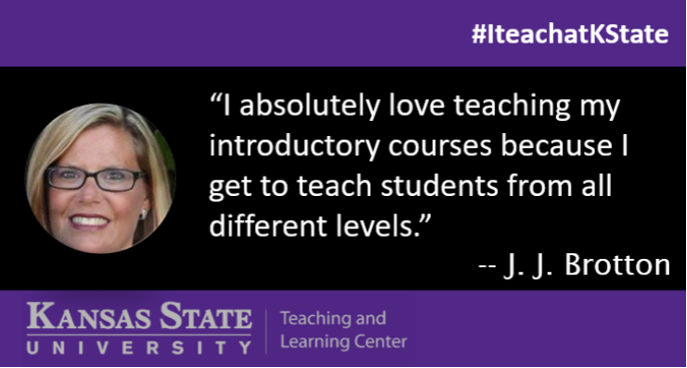 Our TLC Highlighted Teacher this week is J. J. Brotton. J. J. Brotton is an instructor within the Department of Marketing. She earned her BA at Wichita State University in 1995 and her MS at Baker University in 1999. She currently teaches several sections of MKTG 400 (Introduction to Marketing) and is a TLC Fellow.
Click here to view a video of J. J. discussing her teaching.
December Twitter Teacher
We had one Twitter Teacher nominee, Briana Nelson-Goff. Congratulations and thank you for all that you do!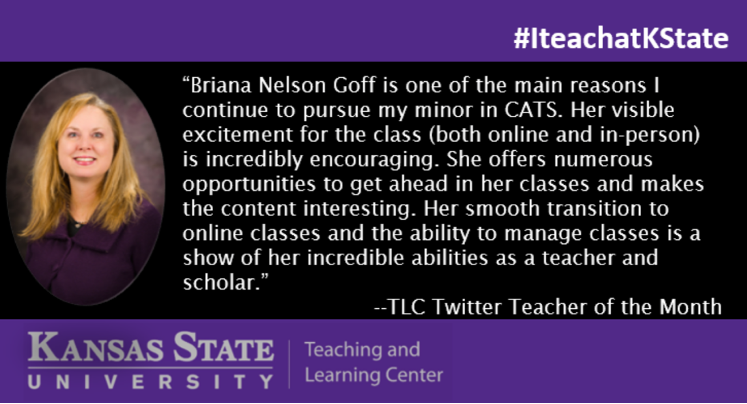 TEVALs
Teaching evaluations will be offered until TODAY, December 15th, and reports will be made available on December 16th. If you would like some quick tips for going through your TEVALs, check out these videos from Don Saucier on his YouTube channel, Engage the Sage: Learning From Your Evaluations & Evaluating Teaching Evaluations.
Programs & Events
The theme for our professional development series this year is "Caring, Connections, and Community." Across the sixteen events in our professional development series, over 379 people have attended synchronously, and over 401 people have participated asynchronously. See our Professional Development Series page for more information (e.g., types of events, the post-event survey link, the TLC Professional Development Certificate, how to become a TLC Fellow). For recordings of past events, see our Archived Events and Canvas pages. Tune in again in January for more professional development events! See our Events page for more information.
TLC Video Series
In the Spring of 2020, we invited teachers to share what was working well in their remote classes in our Teachers Thriving Remotely video series. Click here to see a playlist of our Teachers Thriving Remotely series. However, despite our best efforts, teaching remotely/online does not go as planned, which is normal, and sometimes hilarious, so this Fall we have created a Remote Teaching Fails video series to normalize these experiences. Click here to see a playlist of our Remote Teaching Fails series. For full archives of these video series, see our Teachers Thriving Remotely page and/or our Remote Teaching Fails page.
Follow Us on Social Media!
Like us on Facebook, follow us on Instagram and Twitter, and subscribe to our YouTube channel! Please use the hashtag #ITeachAtKState when you post about your teaching, mentoring, and advising activities!
Please email us (teachingandlearning@k-state.edu) if you would like access to our TLC Professional Development Series Canvas page!
We look forward to this exciting year as we advance K-State's teaching and learning mission, as always, with energy and optimism! We are proud to say that, "I teach at K-State!"
#ITeachAtKState
Sincerely,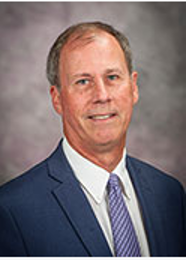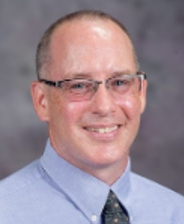 Brian Niehoff Don Saucier
Director, Teaching & Learning Center Associate Director, Teaching & Learning Center