TLC Bi-Weekly Newsletter for Tuesday, September 27th, 2022
Greetings, K-Staters!
We are now in the sixth week of the Fall 2022 semester, and the Teaching & Learning Center (TLC) would like to remind you of our commitment to support your efforts in teaching, mentoring, and advising. We are excited to announce the various priorities, events, and resources that are designed to advance teaching and learning at K-State. This video explains what the TLC can do for you.
Announcements & Opportunities
Graduate Teaching Awards: Departments can nominate one master's student and one doctoral student who have an appointment with teaching responsibilities during the 2022 calendar year for the Graduate Student Council Award for Graduate Student Teaching Excellence. Nominations should be submitted by October 4th to your department's respective college dean's office. More information is provided in this K-State Today announcement.
Textbook Submissions: The course materials submission deadline for the Spring 2023 semester is October 15th. Click here for instructions on how to file these submissions.
TLC Highlighted Teacher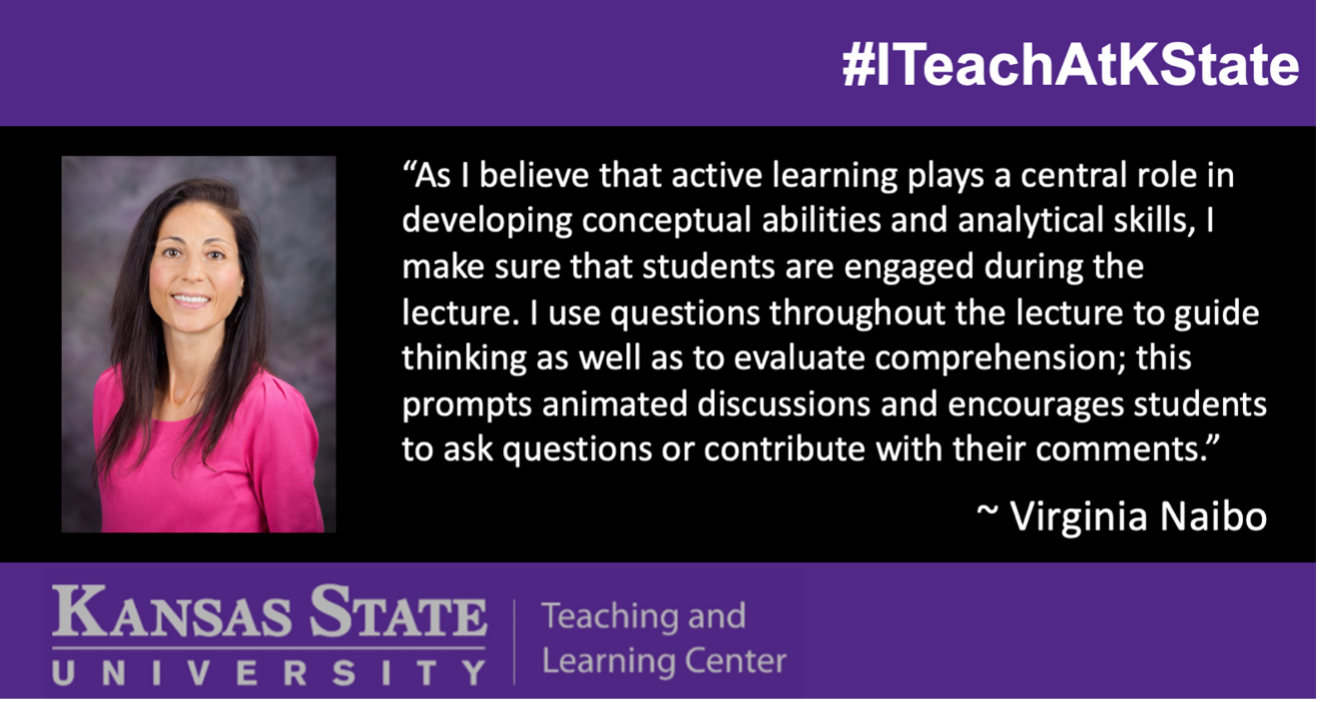 Our highlighted teacher this week is Virginia Naibo. Virginia is Professor and Associate Head at the Mathematics Department. Her research field is Fourier Analysis; in a broad sense, this branch of mathematics allows the study of signals, such as sounds and images, by breaking them down into fundamental pieces that are less complex and, therefore, easier to examine.
She teaches a variety of undergraduate mathematics courses including Calculus, Mathematics for Elementary School Teachers, Applied Matrix Theory, Partial Differential Equations, Introduction to Digital Image Processing, as well as various topic courses for graduate students. She has extensively contributed to the curriculum development at the Mathematics Department, to the training of undergraduate students in research and in mathematics competitions, and to the dissemination of mathematics through the organization of seminars and conferences. She is the recipient of the "2020 William L. Stamey Teaching Award" by the College of Arts and Sciences, of the "2021 Kansas Section of the Mathematical Association of America Award for Distinguished College or University Teaching of Mathematics" and of the "2021-2022 K-State Office for the Advancement of Women in Science and Engineering Award".
Click here to watch a video of Virginia describing her teaching philosophy.
Programs & Events
We look forward to another semester of our Professional Development (PD) Series, and, again, these events will occur on Wednesdays at 12 noon via Zoom. All events are free, and no registration is required. As we finalize our PD Series, we will post the schedule on the Upcoming Events page of our website and on our social media: Facebook, Twitter, and YouTube. We hope to see you there.
Supporting K-State Students: On Wednesday, September 28th (tomorrow!), Andy Thompson, the director of the Office of Student Life, will lead a Need-To-Know event entitled, "How We Follow Through on the Promise of Support." Click here for the promotional video.
Inclusive Teaching: On Friday, September 30th, the TLC will be hosting the first meetings for the Inclusive Teaching Book Group at 8:30-9:20 a.m. Coffee Hour on Zoom and 2:30-3:20 p.m. in person Afternoon Snack option in Hale Library 307. These meetings will cover Chapter 1: "Inclusive Teaching as a Mindset" and Chapter 2: "The Value of Structure." of Kelly A. Hogan's and Viji Sathy's Inclusive Teaching: Strategies for Promoting Equity in the College Classroom (Morgantown: West Virginia UP 2022). Free access to the electronic version of the book is available via Hale Library. If you are interested in attending these events, please RSVP for this and future meetings (i.e., Friday, October 28, 2022 covering Chapters 3 & 4; Friday, December 2, 2022 covering Chapters 5-7).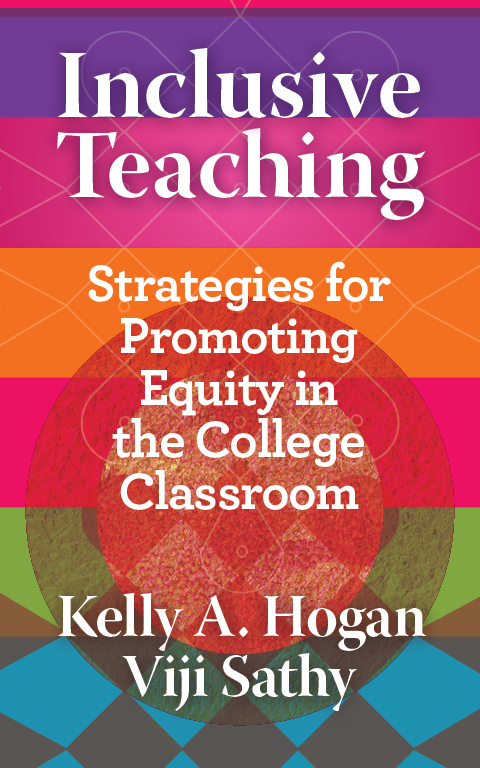 Equitable Grading: On Wednesday, October 5th, Andie Faber will lead a professional development event entitled, "Backward and Ungraded: Promoting Equity through Assessment." Click here to watch the promotional video for this event.
Accessible Documents: On Wednesday, October 12th, Angie Brunk will lead a Need-To-Know event on creating accessible documents.
Also, if you are interested in earning a PD Certificate or in becoming a TLC Fellow for this academic year, check out the requirements on our website.
Engage the Sage Videos to Support Excellent Teaching
We would like to remind you of several video resources as part of Dr. Don Saucier's YouTube channel, Engage the Sage, that are particularly toward the middle of the semester:
Our two most recent releases are also provided below:
Thank You & Encouragement
As a K-State community, we continue to offer grace and compassion to one another during these challenging times. We are grateful for your continued support of your students and colleagues and hope you take advantage of the resources available to you at K-State, including us, throughout the upcoming semester. Thank you for all you do for your colleagues and our students. And thank you for advancing K-State's teaching and learning mission with energy and optimism.
Sincerely,