FAQs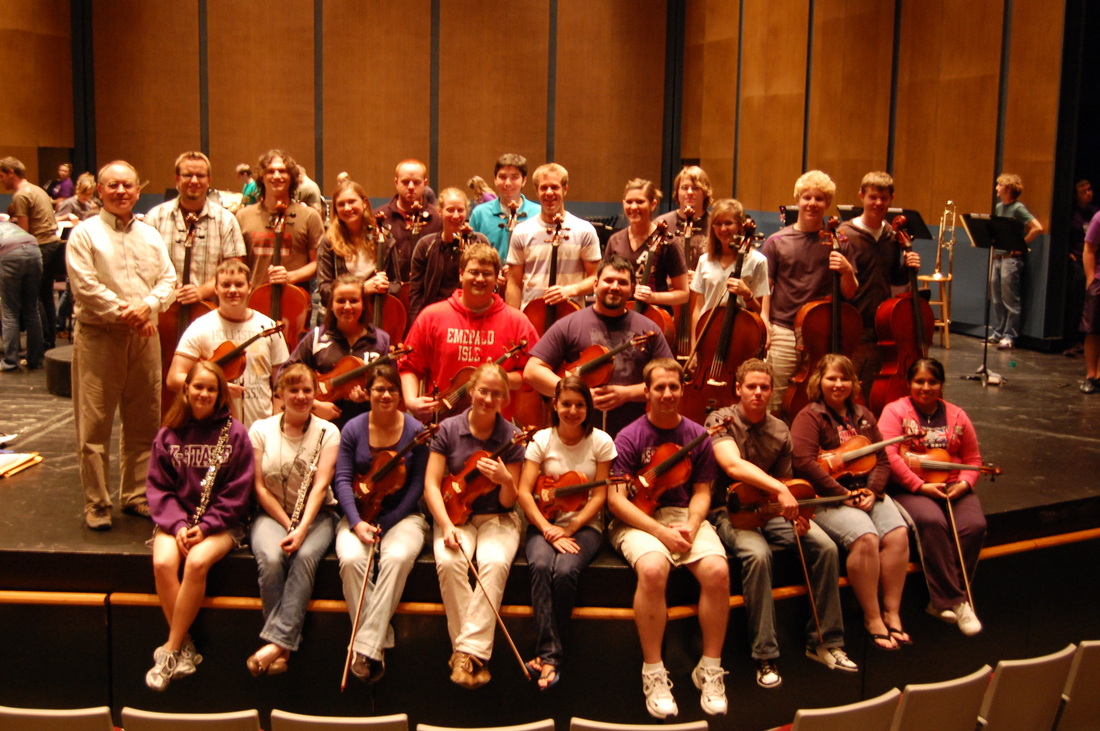 What is a string scholarship?
It is money that you are paid for playing in the K-State Orchestra. Its amount depends on how well you play at your audition and the potential that the string professors see in you. You will be required to maintain a 3.00 GPA because we want you to be good students, also. The only other requirements are that you have exemplary attendance for rehearsals and that you work during String Fling weekend. You are encouraged but not required to take private lessons.
I'm overwhelmed by the thought of college. Will I have time for Orchestra?
Welcome to the feelings of millions of freshmen over the years. Studies have shown that students who are the busiest are often the best students. With a new-found freedom, many students can easily fritter away their time and not do well in classes. Through the years, many students have told us that Orchestra was a great stress reliever and a welcome respite from engineering/computer/math/etc. courses. A former concertmaster, who graduated in chemical engineering, told us that Orchestra was what kept her sane in her incredibly difficult studies. Most of the string players in Orchestra are majoring in other disciplines such as all fields of engineering and computers, Spanish, anthropology, biology, communications, English, agriculture, elementary and secondary education—you name it!
When will I find out about whether or not I received a string scholarship?
The last date for scholarship auditions is February 15. The string professors decide the amount offered to each qualified incoming string student, which depends upon the pool of money available, how many students are applying, and the need for certain instruments to balance the sections within the Orchestra. We like to mail the scholarship offers in late March. You must return your acceptance by May 5 in order to receive the scholarship. If you decide to go to another school or to reject the scholarship, we greatly appreciate it when you promptly return your form declining the offer so that we may use that money for other deserving students.
How often does the Orchestra rehearse?
During the Fall Semester, the Orchestra rehearsals are on Monday evenings from 7:30 — 9:30 and Tuesday/Thursday 2:30 — 3:20. Marching Band meets in the fall, so the Orchestra does not have the rehearsal room available after 3:20. During the Spring Semester, the Orchestra rehearsals are on Tuesday/Thursday from 2:30 — 4:20.
I noticed that scholarship students must help during String Fling weekend as part of their scholarship responsibilities. What is String Fling?
String Fling will celebrate its 45th anniversary in 2018. 600-700 string students in grades 5-9 attend a weekend festival in mid-January and participate in seven orchestras. Scholarship students are required to set up chairs on Friday and then help tune and chaperone from 8:00 — 3:45 Saturday and 8:30 — Noon on Sunday. This requirement is non-negotiable. String Fling generates about a third of the string scholarship money.
I've enrolled in Chemistry this fall and the exams conflict with Orchestra on Monday evening. What should I do?
Many freshmen have this problem; it is unavoidable. Enroll in both courses. Chemistry students take the exam and then come late to the Orchestra rehearsal. All Chemistry students take these exams en masse a few times per semester.
May I take private lessons if I am not a music major?
Yes, if there is room in the professor's studio and you have his or her permission. You must be enrolled in Orchestra in order to take private lessons. If you are a music major or minor, you will enroll in Music 255. If you are a non-music major, you will enroll in Music 251.
May I play in a string quartet or other chamber ensemble?
Yes, Dr. Cooper coaches several student chamber music groups.
Are lockers available? May I rent an instrument?
Yes. A padlock is provided. Bassists may secure a double bass free of charge, and there is a locked room for all the double basses.
I notice there are several course listings for Orchestra. Which one do I enroll in?
Freshmen and sophomores enroll in MUS 130, juniors and seniors enroll in MUS 404, and graduate students enroll in MUS 843.
If I don't receive a string scholarship, may I still play in the Orchestra?
Yes. Many string players in the Orchestra do not have a scholarship, nor did they ever audition for one.
I have other questions. Who can answer them?
Dr. Cora Cooper (vn/va) corac@k-state.edu
Rachel Dirks (vc/db) rdirks@k-state.edu
109 McCain Auditorium; School of Music, Theatre, and Dance;
Kansas State University; Manhattan KS 66506-4702