STRING SCHOLARSHIP AUDITIONS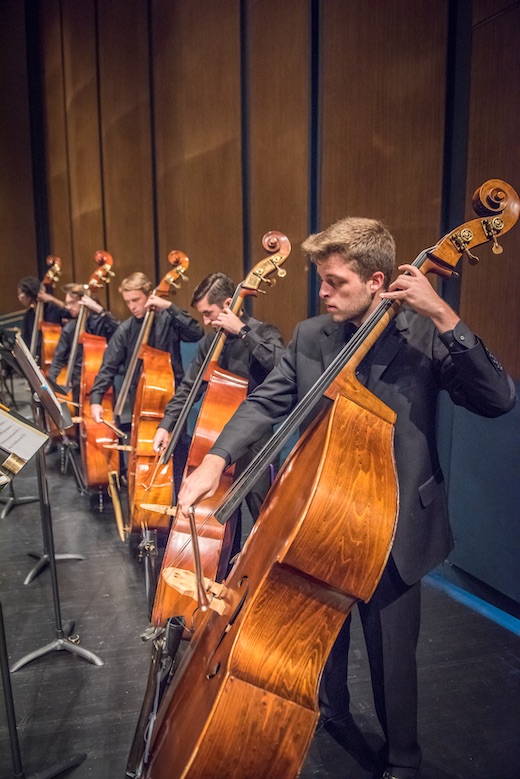 SPRING 2021: VIDEO SUBMISSIONS
All musicians, regardless of major, are encouraged to audition for KSUSO scholarships. 2021 scholarship auditions for string musicians will be submitted via Google or YouTube video link. Preferred scholarship submissions are due by Monday, February 1, 2021.
Music performance and music education majors, as well as music minors, must also complete a string division interview via Zoom. Once audition videos have been submitted, all string audionees will be contacted to schedule an interview. These interviews will take place between February 1-15, 2021.
Those students planning to major in an area other than music, but who want to audition for an orchestra scholarship, need only submit a video. These videos should be submitted between February 1-15, 2021.
AUDITION REPERTOIRE
Two three-octave scales: one major and one melodic minor scale
Concerto movement or equivalent piece
Contrasting piece or etude.
No accompaniment necessary.
MUSIC DEGREE INTERVIEW
To schedule an audition interview, please contact Dr. Cora Cooper: corac@ksu.edu
HOW TO MAKE YOUR AUDITION VIDEO
1. Arrange the camera frame horizontally and make sure your entire upper body and instrument can be viewed throughout the audition.
2. Audition components (scales, concerto, contrasting piece) may be recorded within one performance or separately and then compiled/edited into one video link entry.
3. Please begin the audition video with an introduction of who you are including your name, instrument, where you are from, and your intended major and/or minor field of study. Follow the introduction with your scales, concerto, and finally your contrasting piece.
4. Once you have organized and compiled your video, please submit it via a link to a Google file (shared as "viewer") or an unlisted YouTube video.
SUBMIT YOUR AUDITION...
Click on the link below to submit your audition...
PLEASE SEND ME MORE INFORMATION
If you would like more information about the orchestra, becoming a music major or minor, or the string scholarship audition process, please fill out the following contact information survey.
You can also contact either Dr. Cora Cooper or Dr. Rachel Dirks via email anytime with specific questions or concerns.
Inquiries
Ms. Rachel Dirks (rdirks@ksu.edu) or Dr. Cora Cooper (corac@ksu.edu)
109 McCain; School of Music, Theatre, and Dance
1501 Goldstein Circle
Kansas State University; Manhattan KS 66506-4702
Email: rdirks@ksu.edu or corac@ksu.edu
Fax: (785) 532-6899