Ben Worcester
Instructor
Music Theory
785-532-5740
bdw3355@gmail.com
327 McCain Auditorium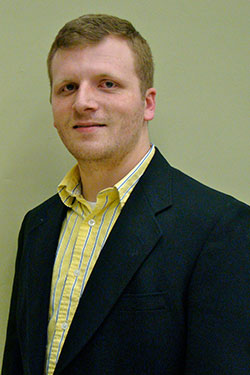 Ben Worcester holds a Master of Music Composition/Theory from Kansas State University (2010), a Bachelor of Music Education from K-State (2006), and a Bachelor of Science in Bible from Manhattan Christian College (2006).
During his time at Kansas State, several ensembles and chamber groups have performed Ben's works. Statements for 6 trumpets was performed by the
K-State Trumpet Ensemble at the 2009 International Trumpet Guild Conference. Whither No One Knows (for a modified Pierrot Lunaire ensemble) was selected for performance for the Society of Composers, Inc., Region VI Conference in 2010. The KSU Symphony Orchestra commissioned Ben's arrangement of Chestnuts Roasting on an Open Fire and Three Scottish Folk Songs for orchestra and men's chorus.
Ben currently works at University Christian Church as the Contemporary Service Coordinator. In this work, Ben arranges music for singers, rock band, and combinations of wind and string instruments. Ben has arranged hundreds of songs incorporating string quartets, brass ensembles, full orchestras, and choirs alongside the regular rock band for these services. Ben also programs electronic backing tracks, which are published and licensed by various online publishers.