Dr. Susan Maxwell
Instructor
Bassoon, Music Theory
785-532-5740
suemax@k-state.edu
308 McCain Auditorium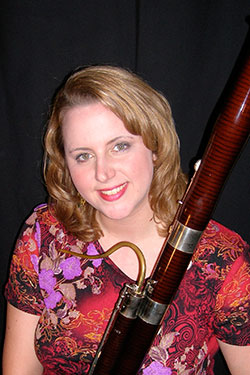 Susan Gustavson Maxwell has dedicated her career to three dimensions of musicianship; she is a teacher, performer and reedmaker. Currently, she teaches Bassoon and Introduction to Music. She has also taught Music Theory, and Leadership in Practice, in the School of Leadership Studies. She performs regularly with the Konza Wind Quintet and the Tallgrass Trio. She is very proud of her students' accomplishments, which are best viewed at the K-State Bassoon studio website. One great resource on this website is the "Honk Hotline," a contact listing of private bassoon teachers in the state of Kansas.
Dr. Maxwell's teaching includes several areas of special interest. One is the art of playing high notes on the bassoon. This has resulted in a study for bassoonists that has been published by Prairie Dawg Press. It includes scale practice, short melodic exercises, and a fingering chart.
Some of Dr. Maxwell's performance engagements have included substitute positions with The Kansas City Symphony, The Kansas City Lyric Opera, The Kansas City Chamber Orchestra, The Tulsa Philharmonic, The Lake Shore Symphony in Chicago, Illinois, Orquesta Sinfónica de Nuevo León in Monterrey, Mexico, and a two-year position with The Wichita Symphony in Wichita, Kansas.