John Kilgore
Instructor
Trumpet
jrkilgor@k-state.edu
223 McCain Auditorium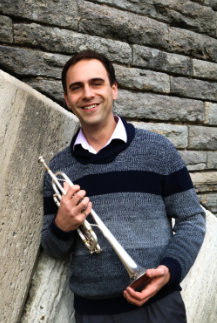 John Kilgore joined the faculty at Kansas State University as Instructor of Trumpet in 2019. At KSU, Dr. Kilgore teaches applied trumpet, high brass techniques, and conducts the KSU Trumpet Ensemble. Prior to teaching at KSU, he was a faculty member at Boise State University.
As an orchestral musician, Kilgore has served as Principal Trumpet of the Boise Philharmonic since 2017. Prior to joining the Philharmonic, Kilgore was a member of the Ocala (FL) Symphony and frequently performed with the Tallahassee Symphony. He has previously performed concerts with the Lexington (KY) Philharmonic and the West Virginia Symphony.
In addition to studio teaching and performing, Dr. Kilgore is an active clinician throughout the U.S. At the 2020 International Trumpet Guild Conference in Columbus, OH, Dr. Kilgore presented the lecture From New Jersey to Cincinnati: The Life and Career of Classical Trumpeter Philip Collins. The lecture represents original research detailing the life and career of Collins, retired Principal Trumpet of the Cincinnati Symphony Orchestra.
A native of Cleveland, Ohio, Kilgore holds a Doctor of Music degree from Florida State University, a Master of Music from the College-Conservatory of Music at the University of Cincinnati, and a Bachelor of Music from Ohio University.