Dr. Alyssa Morris


Assistant Professor
Oboe, Music Theory
785-532-5740
alyssamorris@k-state.edu
017 McCain Auditorium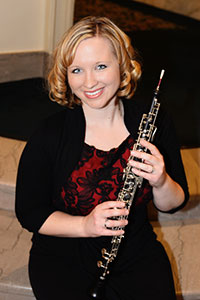 Alyssa Morris has delighted audiences around the world with her "skillful," "fashionable," and "commendable" musicianship (Fanfare). Dr. Morris serves as Assistant Professor of Oboe at Kansas State University. She has appeared as a soloist in venues throughout the United States, Scandinavia, the British Isles, and Western Europe. She performed as a recitalist at the 2014 and 2016 International Double Reed (IDRS) Conventions at New York University and Columbus State University. Dr. Morris was Associate Principal Oboe of the Richmond Symphony Orchestra, and has also held positions with the Utah Wind Symphony and the Utah Baroque Ensemble. She has additionally performed with the Cincinnati Chamber Orchestra, the Cincinnati Bach Ensemble, the Kentucky Symphony Orchestra, and the Utah Lyric Opera.
Regarding her equally expansive work as a composer, the American Record Guide writes that Dr. Morris's music "stands out" as "elegant" and "imaginative." Her chamber music is performed extensively around the world, and has been presented at five IDRS Conventions, the National Flute Association Convention, and the Society of Composers Inc. National Convention.
Dr. Morris has been commissioned to write music for the River Oaks Chamber Orchestra, the Arizona State University faculty wind quartet, the University of Cincinnati College-Conservatory of Music double reed trio, Brigham Young University's Sundance Trio, Ohio University's Athenia Chamber Ensemble, and Carolyn Hove (principal English horn of the L.A. Philharmonic), to name a few. Dr. Morris's music has been recorded on the Equilibrium, Centaur and MSR Classics labels, and her compositions are published by TrevCo Music Publishing.