Dr. Alyssa Morris


Associate Professor
Oboe, Music Theory
785-532-5740
alyssamorris@k-state.edu
017 McCain Auditorium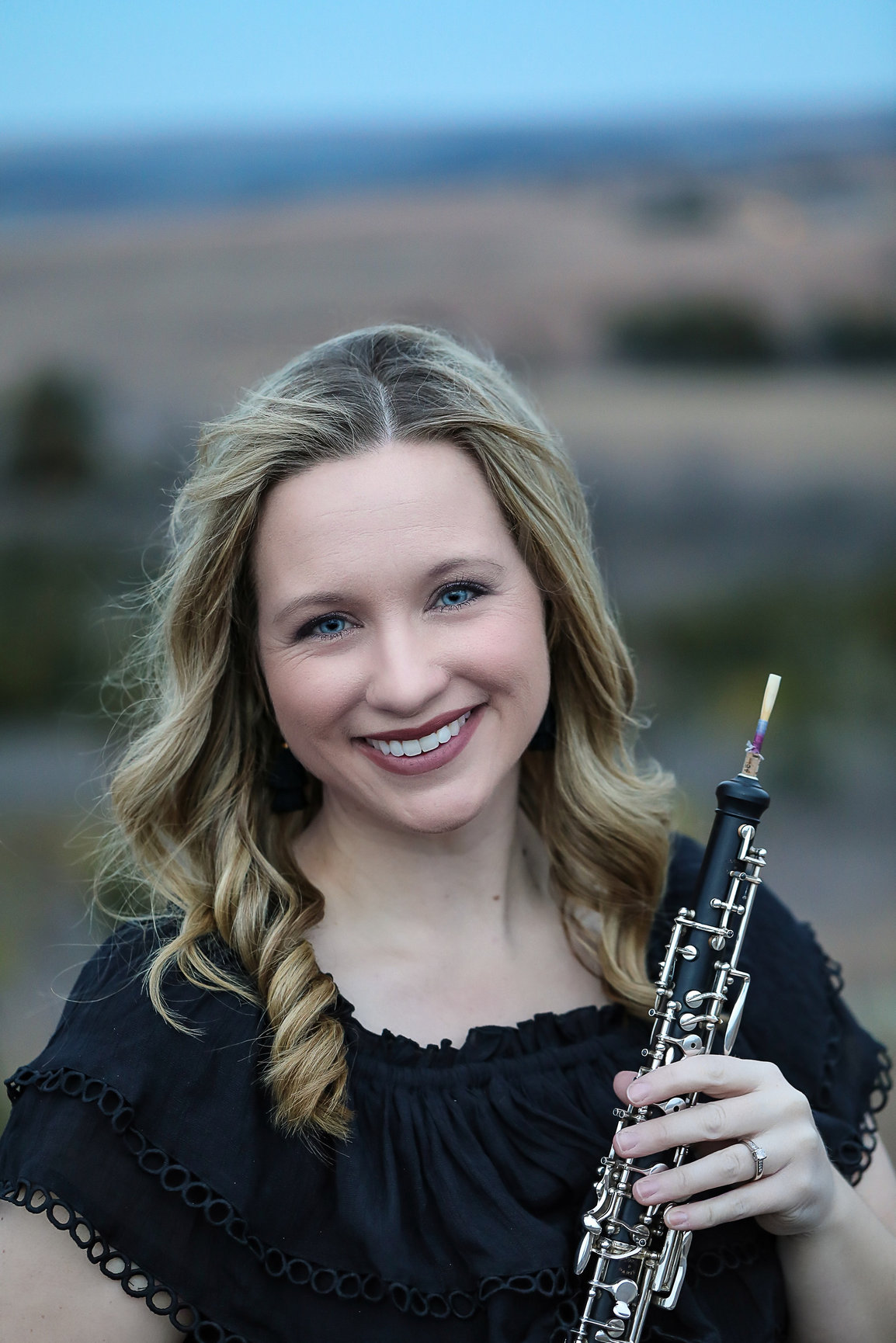 Oboist and composer Alyssa Morris has delighted audiences around the world with her "soulful" and "transcendent" musicianship (Fanfare.) American Record Guide describes her playing as "stunning," exhibiting "unmistakable virtuosity." Dr. Morris serves as Associate Professor of Oboe and Music Theory at Kansas State University, and as the principal oboist of the Topeka Symphony Orchestra and the Chamber Orchestra of the Smoky Valley. She has appeared as oboe soloist and chamber musician in venues throughout the United States, Scandinavia, the British Isles, Western Europe, Thailand, and New Zealand. She performed as concerto soloist at the Kennedy Center, and with the Topeka Symphony in a performance of her original concerto Dreamscape.
Dr. Morris was a recitalist at the 2014, 2016, 2018, and 2023 International Double Reed Conventions, and was a featured performer at the 2021 Virtual International Double Reed Symposium. An award-winning oboist, Morris was 2021 American Prize finalist in the Solo Instrumental and Virtual Performance divisions, and a 2016 International PEO Idagrace Guy Endowed Scholar. She was the only music major in 2016 to receive a top ten position in the competition amongst the hundreds of female doctoral students who applied from the United States and Canada. Dr. Morris has been a featured performer and composer on National Public Radio's program "Performance Today," and on Kansas Public Radio's program "Classical Music in the Morning." Morris can be heard as oboist and composer on her albums "A Higher Place" and "Ruminations" (available through MSR Classics).
A Higher Place
Ruminations
Dr. Morris is a co-founder of AGLOW Trio with flutist Karen Large and pianist Amanda Arrington. AGLOW Trio is committed to supporting the creation of new music, and since its formation in 2021, has commissioned new works by composers Reena Esmail, Grace Baugher Dunlap, and Tony Rodriguez. AGLOW Trio was a featured performing ensemble at the 2023 International Double Reed Convention in Bangkok, Thailand; in Wellington, New Zealand in 2023; in two national performance tours to universities in 2022, in the 2021 World Flutes Festival, in the 2021 National Association of College Winds and Percussion Instructors Conference. AGLOW Trio has been named a finalist in the 2022 American Prize Competition for Instrumental Chamber Ensembles, and released their first album, "The Light Is The Same" through Radium Recordings in 2023. "The Light Is The Same" can be heard on all streaming platforms.
Regarding her equally expansive work as a composer, Dr. Morris's chamber music is performed extensively around the world. Morris was a recipient of two International Barlow Composition Commissions, and was the Composer-In-Residence for the River Oaks Chamber Orchestra (ROCO) in their 2020-2021 season. Her music has been presented at numerous International Double Reed Conventions, the Japan Double Reed Society Convention, the National Flute Association Convention, the International Clarinet Association's ClarinetFest, the National Flute Association Convention, and the Society of Composers Inc. National Convention. Her works have been required competition/ examination pieces for the IDRS Young Artist Oboe Competition, the IDRS Young Artist Bassoon Competition, the International Virtual Oboe Competition, the Association of Oboists and Bassoonists of Spain National Competition, and on the Australian Music Examination Board required works curriculum. Alyssa has been commissioned to write music for the River Oaks Chamber Orchestra (ROCO), the U.S. Air Force Woodwind Quintet, Katherine Needleman (principal oboist of the Baltimore Symphony), the Richmond Symphony, and Carolyn Hove (principal English horn of the Los Angeles Philharmonic), to name a few. Her music is published by TrevCo Music Publishing, C. Alan Publishing, and Sleepy Puppy Press, and it has been recorded on the Blue Griffin, Centaur, Equilibrium, MSR Classics, Parma, Radium, SoundSet, and Tantara labels. Fanfare magazine writes the following about her compositions:
"Alyssa Morris…brings something that we don't always hear in the music of our time–wit. Add to this a true melodic gift, an ability to evoke a range of moods, and a strong imagination, and the result is a composer whose music is gratifying even on repeated hearings."
As a sought-after oboe and composition clinician, Dr. Morris has given performances/master classes to oboe/composition studios at Arizona State University, Arkansas State University, Baylor University, Brigham Young University, Brigham Young University-Idaho, Central Michigan University, Emporia State University, Fort Hays State University, Georgia State University, Glendale Community College, Indiana University, Northwest Louisiana State University, the Ohio State University, Oklahoma State University, Stephen F. Austin State University, Snow College, SUNY-Potsdam, the University of Arizona, the University of Arkansas, the University of Iowa, the University of Missouri-Kansas City, the University of Nevada-Las Vegas, the University of Nevada-Reno, the University of North Texas, the University of Southern Mississippi, the University of Texas in Arlington, the University of Wisconsin-Eau Claire, Utah Valley University, Wittenberg University, and Wright State University. Morris has been a featured artist for the SHE Women in Music Festival, resident guest artist for the Double or Nothing Double Reed Camp, and an adjudicator for the 2016 International Double Reed Composition Competition.
Dr. Morris earned her BM and MM degrees in oboe performance at Brigham Young University, where she studied with Dr. Geralyn Giovannetti. Morris earned her DMA in oboe performance with a cognate in composition at the University of Cincinnati College-Conservatory of Music where she studied with Dr. Mark Ostoich, Dwight Parry, and Lon Bussell. She lives in Kansas with her husband and two children. They enjoy exploring the beautiful midwestern prairies together.