Welcome to Modern Languages Graduate Program!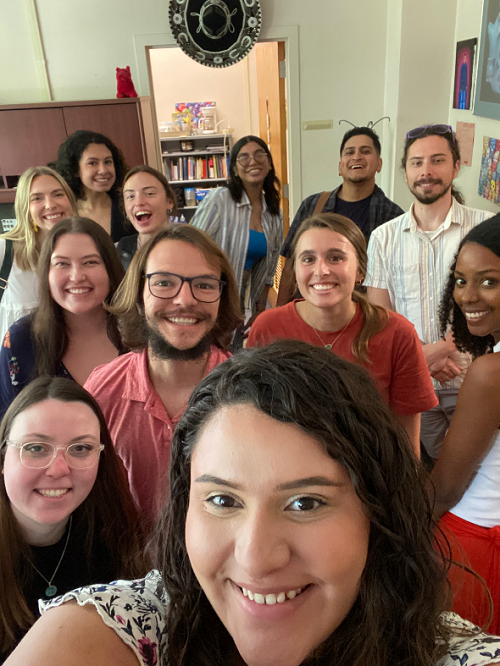 Modern Languages GTAs 2023-2024
Graduate Studies
NEW SPRING 2024!
ONLINE AND REMOTE GRADUATE COURSES
Ideal for high school teachers working on Dual Certification, Continuing Education, or Professional Development Credits, or AP Training
It's FREE to apply to K-State Global Campus online and take up to 9 credit hours as a non-degree seeking student; no transcripts needed, and receive acceptance within as little as 24 hours! Learn more here!
M.A. PROGRAM - Customize to your interests!
The M.A. program in the Department of Modern Languages offers tracks in SPANISH, FRENCH, GERMAN, or TEFL, and is highly customizable. Our graduate students tailor their studies to their interests and career goals.
The program consists of 30 credit hours, or 10 courses at the 600-800-level. These courses are generally divided so that a minimum of 6 (18 credit hours) are in the language of specialization, and the remaining 4 (12 credits) consist of our MLANG electives - these are courses taught in English for the purpose of advanced Langauge (L2) teaching and research.
- MA in French, German, Spanish: Program description here
- MA in Teaching English as a Foreign Language (TEFL): Ideal for students hoping to teach English abroad. This program is more structured, with 5 required courses and 5 electives. Program description here.
-TEFL Certificate - 6 classes (18 credit hours); can be completed in conjunction withe the MA degree, as an "add-on". This requires at least 2 additional courses for a total of 6 courses (18-credit hours) in the language of specialzation and 6 courses (18-credit hours) of MLANG electives that count for the TEFL certificate. Given the additional courses and the specific electives requried, students pursuing a TEFL Certificate with their MA should plan to take an additional semester to complete the degree & certificate together. Information on the TEFL certificate is available here.
General Information
Admissions
Financial Support
Checklist for US Residents & Citizens Graduate Application
Checklist for International Students Graduate Application