May 2, 2022
Chapman Center announces winners of third annual Interdisciplinary Research Grant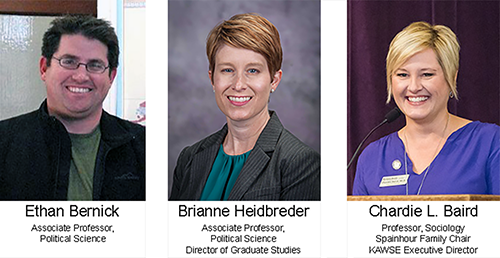 The Chapman Center for Rural Studies, a center of excellence in the College of Arts and Sciences, announces Ethan Bernick, Brianne Heidbreder and Chardie Baird as recipients of the 2022 Interdisciplinary Research Grant. Bernick, Heidbreder and Baird will use this grant on their interdisciplinary project, "Gendered Pathways: In Pursuit of Local Elected Office." The project focuses on the reasons why American political institutions are male-dominated and positions of county clerks, especially in rural communities, are female-dominated. There is very little known about how and why this happens, and the team's exploration will tackle this question by using insights from sociological and political science research.
"I am excited that the Chapman Center is providing such a great opportunity to work with community leaders and, hopefully, soon-to-be community leaders as we try to better understand how we can help improve governance and inequity in rural America while embracing K-State's land-grant mission," Bernick said.
Bernick, Heidbreder and Baird receive a stipend to encourage their interdisciplinary work. The aim of the Interdisciplinary Research Grant is to generate new insights into the dynamics of rural life through partnerships with rural Kansas communities or with the potential to improve the quality of life for rural Kansas residents. The project embodies this mission as it explores and creates collaborations and support systems between K-State and rural elected officials throughout Kansas.
"This project is such a great fit with the work of the center," said Mary Kohn, Chapman Center director. "The team is well-poised to provide valuable research experiences to our undergraduate researchers while also producing work that speaks directly to the unique experiences of rural Kansas communities. This is exactly the kind of work the Chapman Center hopes to promote."
"I am so excited about the Chapman Center's new IRG projects," said Amit Chakrabarti, dean of the College of Arts and Sciences. "These funded topics show the interdisciplinary breadth of our faculty's research and scholarly work in the college. We are grateful to Mark Chapman and Cheryl Mellenthin for their support of the Chapman Center. With private support and federal grant dollars, the center is quickly becoming a leader in Kansas for interdisciplinary humanities research."
To learn more about the center's annual Interdisciplinary Research Grant and previous recipients, visit the IRG webpage.
Information about the next round of grants will be available in fall 2023.