News
Need another three credit hours this summer? Take Professor Heather McCrea's War & Conquest in Hispanic America! Students will read works by conquistadors of the Hispanic world - Cortes, De Soto, Cabeza de Vaca, Coronado and the Pizarro brothers. Online materials integrate video lectures, discussion boards, film clips and other readings. Satisfies non-Western K-State 8 requirements and Pre-1800 History requirements. Global Campus Course fees apply.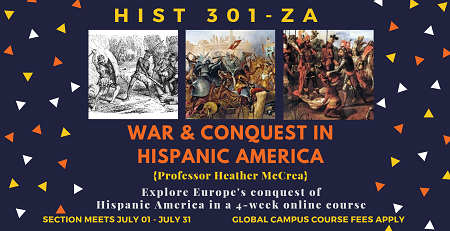 _____________________________________
The History Department congratulates undergraduate scholarship winners and graduate award recipients for the 2019-2020 academic year. To view the pictures of our Scholarship and Award Ceremony held on May 17 in Calvin Hall, visit our Facebook page.
_____________________________________
The KSU Department of History is delighted to announce the hiring of Mary Elizabeth Walters (PhD forthcoming from University of North Carolina). She's a US military historian who specializes in humanitarian interventions with a particular emphasis on the 1999 Kosovo Refugee Crisis in Albania. Professor Walters currently has a fellowship at the University of Texas' Clements Center for National Security. You can learn more about her and her scholarship by clicking HERE.
_____________________________________
HISTORY MAJORS: The FALL 2019 History course schedule is available HERE
View the Summer 2019 schedule.
*Note that not all rooms or instructors have been added to this list, and anything is subject to change. Please follow instructions in your KSU email to get an appointment set up with Kathy Lillich. If you have a faculty advisor, please email them directly. Please check your enrollment date in KSIS before calling or scheduling an appointment through the SSC.
To view older posts, go to our News Archive.
Welcome
The Department of History offers students from any major a rewarding educational experience. As they seek to recover and interpret the past in all of its messy and fascinating manifestations, historians read a lot, write a lot, and speak a lot; thus developing critical thinking skills which allow them to pursue successful careers not only as historians, archivists, and curators/museum professionals but also as lawyers, entrepreneurs, government officials, and leaders in the nonprofit sector.
Our 19 full-time faculty members have written award-winning books and articles on research topics ranging from the military in ancient China to public health in Latin America to the grasslands of the Great Plains. While we commend research, we also emphasize and prioritize teaching. More than a quarter of our faculty have won university-wide teaching awards. The majority of our classes are small, which means that our students get plenty of attention, and undergraduate history majors are assigned to our dedicated and award-winning History advisor, Kathy Lillich, to help them navigate their way to successful completion of their degree.
Our major is designed to be broad, requiring students to take classes that vary widely across time and place, but the department has particular strengths in military, agricultural/environmental, and religious history. To declare a history major or double-major, please visit the Office of the Dean for the College of Arts and Sciences in 107 Calvin Hall.
We are pleased to also offer history as a minor with a requirement of 21 hours of coursework. To declare a minor, please stop by the History Department Office in 117 Calvin Hall.
We hope you will stop by the Department Office (117 Calvin) anytime you have questions. Office staff are available Monday - Friday from 8:00 a.m. to 5:00 p.m. and we would be happy to help you succeed at K-State by talking with you about our course offerings, scholarships, and graduate program.
-Michael Krysko
Chair, Department of History