Welcome to K-State's Department of English!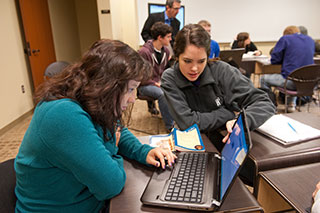 Note: If you are seeking permission for upper-level professional writing courses (ENGL 415, ENGL 417, and ENGL 516), Children's Literature (ENGL 355), or required courses for the English major or minor (such as ENGL 310 or ENGL 698), please visit the online permission forms.

---
Our undergraduate curriculum offers concentrations in literature, creative writing, and literature with teaching certification as well as minors in both literature and writing. Graduate students may earn an M.A. in English with emphases in children's literature, creative writing, cultural studies, rhetoric and composition, and literature. We also serve a broad range of non-English majors with courses in expository writing, humanities, general education literature and film, honors composition and literature, creative writing, linguistics, children's literature, and technical writing.
Students in English learn how to think critically, reason carefully, communicate effectively, and appreciate excellent writing and thinking. The education they receive provides them with the skills and experiences that prepare them for graduate and professional schools and for careers in technical and professional writing, editing and publishing, teaching, management, information services and technology, public relations, arts and humanities administration, government, philanthropic and not-for-profit agencies, among other fields.
Our award-winning faculty members have been recognized locally, nationally, and internationally for their outstanding contributions to research in the field and their passionate commitment to excellent teaching.
To learn more about our courses, programs, people, and our commitment to diversity, to read our blog and about department news and events, to support the work of the department, or to contact us, just follow the links.