Bachelor's Degree in Electrical Engineering
B.S. in electrical engineering
Electrical engineering focuses on the foundations of circuit theory, electronics and electromagnetics. Electrical engineers design, develop, test and supervise complex electronic circuits.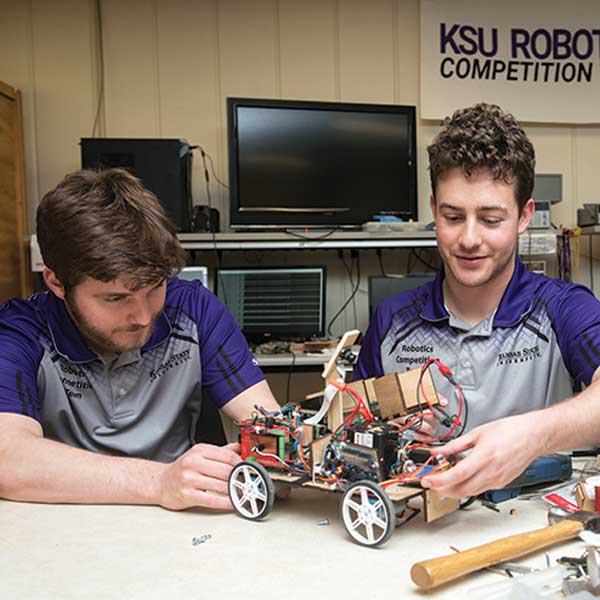 Hands-on learning is a hallmark of instruction for students in all engineering programs.
The K-State difference
Numerous research opportunities in electrical engineering exist such as
electronics,
renewable energy,
power systems,
wireless communications, and
medical devices for human and animal health.
The department and its courses are located in Engineering Hall, a new state-of-the-art facility providing a superior academic, cutting-edge environment.
As the state's largest electrical and computer engineering program, K-State's department still maintains small class sizes. Award-winning professors combine theory with real-world applications, resulting in an up-to-date and extensive lab-based curriculum.

Did you know?
One hundred percent of electrical engineering graduates find jobs or choose to continue their education within six months of graduation.
What classes will I take in electrical engineering?
Electrical engineering focuses on the foundations of circuit theory, electronics and electromagnetics. Electrical engineers design, develop, test and supervise complex electronic circuits. Our curriculum offers three areas of specialization:
Bioengineering: Students focus on challenges faced by the health care and life science communities.


Electronics and communications: Students learn about the technologies underlying electronic and communication devices used in daily life, and will be prepared to design and build hardware to make new products of the future possible.


Power systems: Students develop skills required to design power devices and systems, which range from power electronics in portable electronic devices to the generation, conversion, transmission and distribution of electrical energy in a safe, reliable, economical, clean and sustainable manner.
Undergraduate Catalog >
Suggested coursework >
How can I continue my education?
Electrical and Computer Engineering (M.S.)
Electrical and Computer Engineering (Ph.D.)
What can I do with a degree in electrical engineering?
Electrical engineers have wide flexibility in their career options with the ability to do hardware and system design across many different platforms. Graduates pursue careers as:
View more options in electrical engineering
The Career Center offers an extensive career library, free assessments for exploring major/careers, job search training, career advising, employer connections, and a staff dedicated to assisting students in the career development process
Tuition and Scholarships
Learn more about the $42 million in scholarships Kansas State University awards to students each year!
Additional K-State opportunities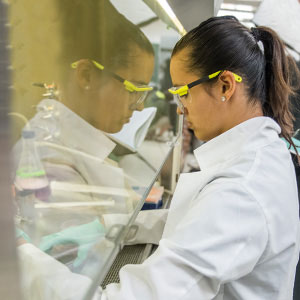 At a public research university like K-State, you'll have direct access to research opportunities from the start. K-State undergraduates have studied sustainable energy, cancer cells, musical lyrics and many other topics alongside nationally renowned faculty at K-State's 90-plus research centers.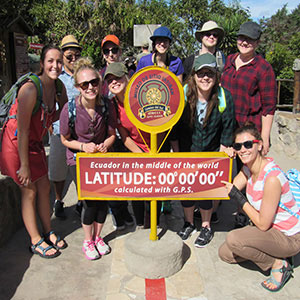 Studying in another country not only allows you to experience the wonders of another culture, but it also broadens your horizons and makes you a stronger citizen in our global society. There are more than 85 countries currently participating in K-State's education abroad programs!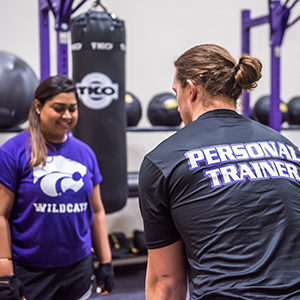 Whether you are interested in a career in human or animal health, K-State is a great place to start the journey toward becoming a healthcare professional. You will have a dedicated health professions advisor who will help you navigate the professional school application process for your chosen healthcare field.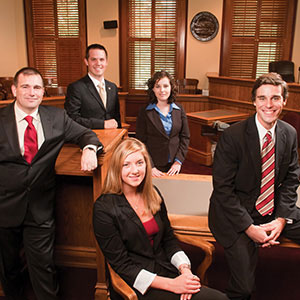 Did you know that K-State pre-law students are accepted into law school at a rate substantially exceeding the national average? In preparing for law school, you will work with a dedicated pre-law advisor and select the major of your choice in any department in any college within the university.