K-State Welcome Center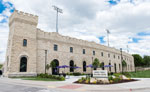 The K-State Welcome Center will serve the entire K-State family as the front door to new opportunities. Kansas State University's historic Memorial Stadium, completed in 1924, will be revitalized to be the new central location for families to connect with several different university services.
Those services include:
New Student Services
Admissions
Student Financial Assistance
Housing and Dining Services
Career and Employment Services
The Welcome Center will feature interactive technology and provide customized information for students and visitors. To enhance the beauty of the stadium and add sustainability, Memorial Stadium will also receive a living green roof.
The K-State Welcome Center is projected to cost $20 million and construction should start no later than January 2015.