College of Business Administration's New Building
Built 105 years ago, Calvin Hall, the home of the College of Business Administration, has undergone several renovations but has reached capacity. As student enrollment grows and business professionals become more involved with the school, the building lacks space for research labs, meeting space and professional development.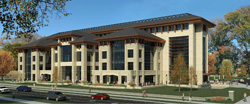 Funds are being raised for a new building that will accommodate these needs. The new 140,000-square-foot College of Business Administration building will be the largest among Kansas State University's top six competitors and second largest in the Big 12 Conference.
The new building will include:
Study rooms
Meeting rooms
Computer labs
Research labs
Financial trading rooms
Interview rooms for sales training
Space for student-run businesses
The new building will cost approximately $50 million, with the majority of funds coming from private gifts. Construction on the building is projected to begin in fall 2014 and be completed by December 2015.