Current Construction Projects
Kansas State University is building on its successes and looking forward to exciting changes on the horizon. Throughout the university, academic and athletic facilities are receiving renovations and additions, which will provide quality facilities to students, faculty, alumni and fans.
Thanks to the generous gifts from donors, Kansas State University is embarking on a new chapter full of buildings with unique capabilities.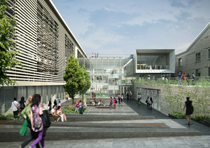 Seaton Complex, which contains the College of Architecture, Planning and Design, is receiving a revitalization to meet the needs of the growing class sizes. When finished, the complex will feature new studios, an outdoor amphitheater and more energy efficiency.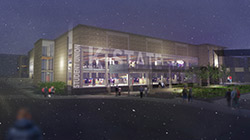 The 50-year-old K-State Student Union is receiving a renovation and addition, all thanks to students who approved a $25 million project that will benefit future K-Staters. The renovation will give the Union more space and a better overall flow.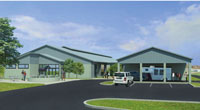 The Equine Performance Testing Facility, a new addition to the Veterinary Medicine Complex, will provide a soft-footing riding arena, an asphalt footing area and a 140-foot-long runway for lameness examinations; four holding stalls; a farrier services area; a radiographic imaging area; and a conference room for client services, student education and outreach activities. Construction of the $2.8 million facility, funded by Veterinary Health Center revenue, began in June and is expected to be complete by January 2017.
The Chilled Water Plant Expansion, a $56 million project of the chilled water system, is in progress for the Manhattan campus. This project is in line with the K-State 2025 strategic plan to build an efficient, reliable and cost-effective central utility plant that provides the capacity for campus expansion. The new chiller plant building is planned to be large enough to eventually allow for the installation of four 2,500 ton chiller units providing for future projected cooling needs.