Current Construction Projects
Kansas State University is building on its successes and looking forward to exciting changes on the horizon. Throughout the university, academic and athletic facilities are receiving renovations and additions, which will provide quality facilities to students, faculty, alumni and fans.
Thanks to the generous gifts from donors, Kansas State University is embarking on a new chapter full of buildings with unique capabilities.
College of Business Administration
Plans are underway for a new home for the College of Business Administration, currently housed in Calvin Hall. The new 140,000-square-foot building will have more space and special features like financial trading rooms and areas for professional development. (Click the images to see a larger rendering.)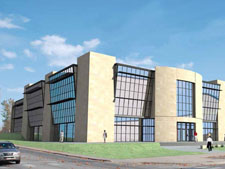 Durland Hall
Durland Hall, part of the College of Engineering complex, will receive a $40 million wing added to the existing building. The new wing will contain state-of-the-art classrooms and specialized laboratories.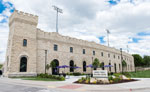 K-State Welcome Center
As part of Memorial Stadium's two-part renovation, the east side is under construction to house the brand new Berney Family Welcome Center. The K-State Welcome Center will serve the entire K-State family as the front door to new opportunities. This unique facility will be one of the first in the country to provide a central location for students and families to connect with new student services, admissions, financial aid, housing and dining services, and career and employment services.
Vanier Football Complex
As part of the university's third phase to update Bill Snyder Family Stadium, construction on the Vanier Football Complex began in December and will be completed by August 2015. The $69 million complex will grow from a two-story building to a four-story complex that will double the amount of space for student-athletes and coaches. The expansion will include an academic learning center; strength, conditioning, training and recovery area; locker rooms; a team theater and meeting rooms; an office complex for coaches; and improved north-end seating and fan amenities.
The Chilled Water Plant Expansion
The expansion, a $56 million project of the chilled water system is in progress for the Manhattan campus. This project is in line with the K-State 2025 strategic plan to build an efficient, reliable and cost-effective central utility plant that provides the capacity for campus expansion. The new chiller plant building is planned to be large enough to eventually allow for the installation of four 2,500 ton chiller units providing for future projected cooling needs.
Wefald Hall and Dining Center
Construction has begun on the university's newest residence hall, Wefald Hall, and dining center. Wefald Hall will house more than 540 students in 129,000 square feet of living space on its eight floors. The hall will be part of the Kramer Complex and once complete, the four buildings will be connected by enclosed walkways. The dining center will be 60,000 square feet of kitchen, preparation space and dining rooms. It has been designed to serve 1, 850 students. Both Wefald Hall and the dining center are estimated to be complete by spring 2016. Renovations to Kramer Dining Hall, Marlatt Hall and Goodnow Hall also are planned and are estimated to be complete by fall 2016.