West Stadium Center
Kansas State University wants to offer the best fan experience in the Big 12 Conference. The West Stadium Center is the centerpiece of the overall master facility plan for Bill Snyder Family Stadium, which will greatly enhance the game-day experience.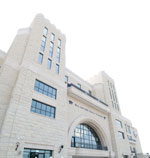 The West Stadium Center will feature amenities for all fans, including new concessions, restrooms, ticket offices, a fan store and a hall of honor. In addition to being a first-class facility for K-State student-athletes and fans, the West Stadium Center at Bill Snyder Family Stadium will serve as the northwest gateway to campus and a part of the university's goal of becoming a Top 50 public research university by 2025. The structure will make a statement to the Big 12 Conference, the nation and prospective student-athletes that K-State is committed to competing at the highest level of intercollegiate athletics.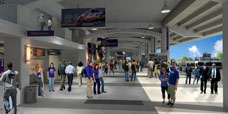 The $75 million project is projected to be ready for the 2013 football season. The West Stadium Center will be funded entirely by the generosity of K-Staters through leadership philanthropy and gifts associated with a high-level premium seating experience.