WELCOME TO THE OFFICE OF INTERNATIONAL PROGRAMS
Interim Associate Provost Marcelo Sabates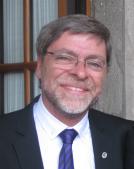 Welcome to Kansas State University Office of International Programs. We host 2,045 international students from 108 countries to our campus. While these students experience our campus they also contribute to our regional economy and widen the knowledge and diversity of our student body. It is our responsibility to impart an integrated global perspective across all aspects of the university, so that all of our students are wellprepared to be global citizens.
Our University President, Kirk Schultz understands the value of the importance of internationalizing the campus and the classroom and has included internationalization as a key element in the University's Strategic Plan, Vision 2025. We look to expand our capacity to host more international students and make sure that we provide opportunities to enrich the lives of all of our Kansas State students.
Dr. Marcelo Sabates
All Things International at K-State
The mission of the Office of International Programs is to lead to the internationalization of Kansas State University by supporting and collaborating with faculty, students, and scholars. This office directly administers Study Abroad, the English Language Program, International Student and Scholar Services, International Pre-Admissions/International Recruiting and organizes international events on campus. For more information, please visit the About OIP page.
STUDENT RESOURCES