2014
Marcelo Sabates appointed associate provost for international programs
Provost April C. Mason announced in K-State Today (January 21, 2104) that following an internal search during the fall, Marcelo Sabates is appointed as associate provost for international programs, effective Jan. 19. Sabates has served as the interim associate provost since July 2011.
Sabates took over the leadership of the office of international programs at a particularly critical time and has worked tirelessly with faculty and staff across the university to respond to our growing international student needs, as well as the needs of visiting scholars and partners from around the world. He played a key role in the development of the K-State 2025 Internationalization Strategic Action Plan and its initial implementation; working collaboratively to increase study abroad opportunities and participation, to diversify the international students choosing Kansas State for their undergraduate education, and to forge new and highly visible relationships with top-rated international institutions of higher education.
April C. Mason, Ph.D.
Provost and Senior Vice President
WELCOME TO THE OFFICE OF INTERNATIONAL PROGRAMS
Associate Provost Marcelo Sabates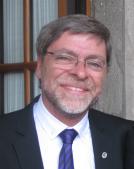 Welcome to Kansas State University Office of International Programs. We welcomed 2,113 international students (another record breaking year!) from 103 countries to our campus this year. While international students experience our campus they also provide global perspectives to classroom discussions, expand our research connections, create cultural awareness among our students, and help engage students to experience other countries and cultures.
Dr. Marcelo Sabates
OIP NEWS AND HIGHLIGHTS:
Friends of International Programs Spring Banquet
Date: Tuesday, April 15, 2014
Time: 6:00 Social Hour, Silent Auction and Cash bar
7:00 Program Remarks followed by dinner
7:30 Presentation by Mary Tolar Ph.D. and Director of Leadership Studies
Mary along with her students from the service learning team that traveled and worked in Puebla, Mexico will share their efforts from their experience in La Preciosita, near Puebla, Mexico.
Place: Holiday Inn at the Campus
1641 Anderson Avenue, Manhattan KS 66502
Cost: $35.00 ($10.00 is tax deductible)
KSU FACULTY: Are you looking for information on how to propose a faculty-led 2014 Study Abroad program?
If so: Please visit the "Lead Students Abroad" page:
http://www.k-state.edu/studyabroad/faculty-advisors/lead/
The ATA airport shuttle van is available from Manhattan Regional Airport (MHK) to Kansas State University.
Click on the ATA bus for more information.
The Office of International Programs announces Dr. P. V. Vara Prasad as the 2013 International Educator of the Year Winner!
Dr. P. V. Vara Prasad, Professor – Crop Ecophysiology in the Department of Agronomy was the winner of the 2013 International Educator of the Year Award. This award recognizes one faculty, staff, administrator or other member of the K-State community for his or her major contributions and sustained commitment to advancing international education at K-State.
The 2013 International Education of the Year Awards Ceremony was Tuesday, Nov. 19, 2013
The ceremony recognized three categories of exceptional service:
2013 Outstanding Support for International Initiatives presented to Derek Jackson, the director of housing and dining services at K-State
2013 Innovative Education Program of the Year recognizing the Brazilian government
2013 International Educator of the year awarded to P. V. Vara Prasad
OIP and School of Journalism Partnership
The Office of International Programs and the School of Journalism MC 280 classes have joined in a collective effort to apply the academic abilities of the public relations students to real world scenarios, while promoting the initiatives of the OIP. Dr. Barb DeSanto's PR writing class teamed up with Office of International Programs to help promote international initiatives. Journalism student Jenny Jirovec serves as the OIP Journalism intern and is assisting the office in implementing the logistics of International Education Week and serves as the liaison to the Journalism classes. More about this partnership can be viewed under the NEWS button at the left of this page.
Celebrating International Education Week
International Education Week (IEW) is a joint initiative of the U.S. departments of Education and State. First established in November 2000, International Education Week was created to celebrate the benefits of global education and exchange. KSU will be celebrating events across two weeks to better encourage faculty, staff and students to explore the value of education abroad, experience the rich diversity in the classrooms and participate in events being planned throughout campus.
OIP Officially Opened New International Technology Commons
On October 1, 2013 the Office of International Programs celebrated the opening of their new International Technology Commons at Wildcat Landing. Provost Mason dedicated the space that will serve international students with innovative technologies and resources.
Commons Hours are: Monday -Thursday 8:00 am-9:00 pm
Friday 8:00 am to 6:00 pm
Saturday - Sunday 2:00 - 6:00
KSU's English Language Program granted a 10 year accreditation!
The Council on English Language Program Accreditation (CEA) recently granted the KSU English Language (ELP) a 10 year accreditation which is the longest period of accreditation possible through the CEA. The K-State ELP was the only program to be re-accredited for that length of time at its June 2013 commission meeting.
International research collaboration has become a key element in the internationalization strategy of Kansas State University. The Office of International programs recently hired Dr. Marcellus Caldas as the new Director of International Research and Faculty Collaborations. Marcellus will be key in elevating awareness of university engagement at a high level that will bring national and international recognition on our campus. We've added the new button on the left for Collaboration Opportunities which links to to this newly updated reference for possible funding and partnership opportunities.
Our University President, Kirk Schulz understands the value of internationalizing the campus and the classroom and has included internationalization as a key element in the University's Strategic Plan, Vision 2025. To achieve its goal, K-State is developing strategies to expand international collaboration between researchers across space, in science and technology, as a fundamental paradigm for advancing knowledge and solving global problems.
STUDENT RESOURCES