News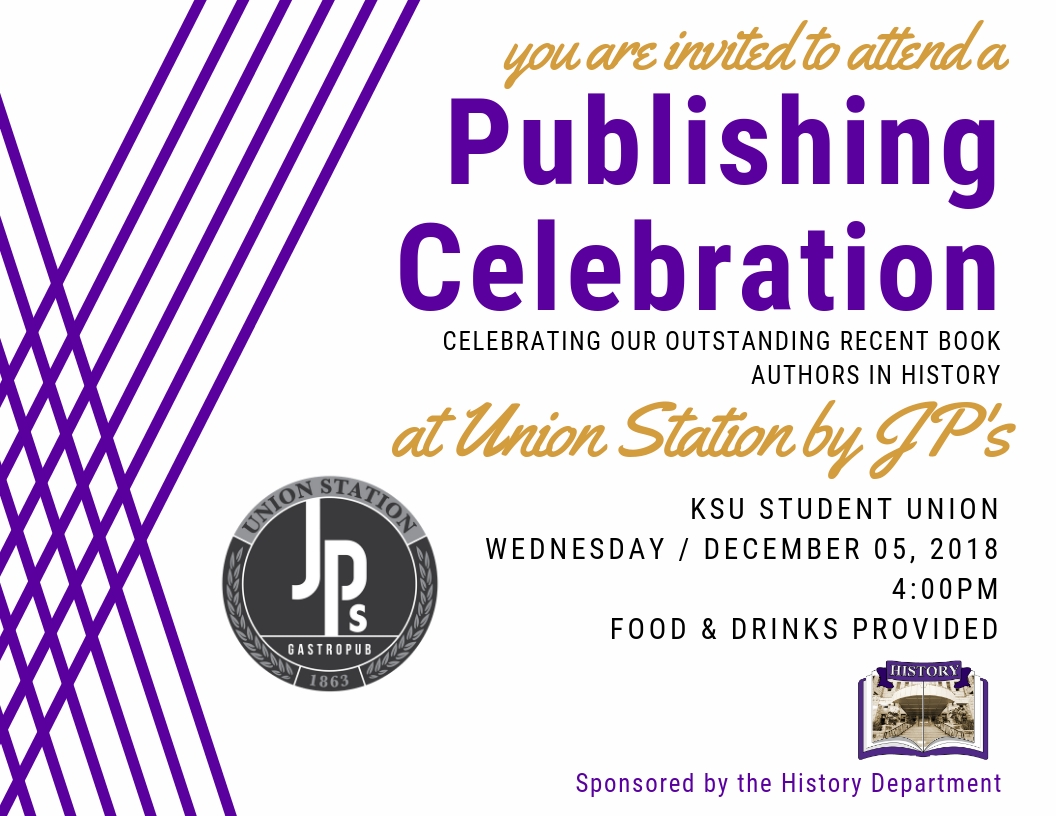 RSVP to Melissa Janulis, History Office Manager, at hoffice@ksu.edu by December 04, 2018.
_______________________________________
Enrollment time has come again! Enrollment for the Spring 2019 term began October 22, 2018.
Plan your next semester today, starting right HERE with the Spring 2019 History course schedule. Note that not all rooms or instructors have been added to this list, and anything is subject to change. You may use the course schedule for planning purposes but have a backup in mind.
The best way to schedule an advising appointment with Kathy Lillich is to use the the Student Success Collaborative (SSC) website. Once you've logged in, click Schedule Appointment, and follow the pull down prompts for History advising. No advising appointments with Kathy will be made via email. If you have difficulties scheduling your appointment, or have questions, call the History main office at 785-532-6730. If you have a faculty advisor, you will need to contact him/her directly. SENIORS: Make you advising appointments early! You do not have to wait until closer to the end of October to be advised. Kathy's schedule fills up quickly so log on to the SSC today!
-If you schedule your appointment through SSC, please bring your Wildcat ID card with you to your appointment, or make sure you know your WID. Check in at the laptop check-in station in the History office, 117D Calvin Hall. *The History office is closed M-F 12:00-1:00PM for lunch, so if your appointment is at 12:30 please knock on Kathy's door.*
To view older posts, go to our News Archive.
Welcome
The Department of History offers students from any major a rewarding educational experience. As they seek to recover and interpret the past in all of its messy and fascinating manifestations, historians read a lot, write a lot, and speak a lot; thus developing critical thinking skills which allow them to pursue successful careers not only as historians, archivists, and curators/museum professionals but also as lawyers, entrepreneurs, government officials, and leaders in the nonprofit sector.
Our 18 full-time faculty members have written award-winning books and articles on research topics ranging from the military in ancient China to public health in Latin America to the grasslands of the Great Plains. While we commend research, we also emphasize and prioritize teaching. More than a quarter of our faculty have won university-wide teaching awards. The majority of our classes are small, which means that our students get plenty of attention, and undergraduate history majors are assigned to our dedicated History advisor, Kathy Lillich, to help them navigate their way to successful completion of their degree.
Our major is designed to be broad, requiring students to take classes that vary widely across time and place, but the department has particular strengths in military, agricultural/environmental, and religious history. To declare a history major or double-major, please visit the Office of the Dean for the College of Arts and Sciences in 107 Calvin Hall.
We are pleased to also offer history as a minor with a requirement of 21 hours of coursework. To declare a minor, please stop by the History Department Office in 117 Calvin Hall.
We hope you will stop by the Department Office (117 Calvin) anytime you have questions. Office staff are available Monday - Friday from 8:00 a.m. to 5:00 p.m. and we would be happy to help you succeed at K-State by talking with you about our course offerings, scholarships, and graduate program.
-Michael Krysko
Chair, Department of History