About
The Center for Advocacy, Response and Education (CARE), founded in 1973, is located in 206 Holton Hall on K-State's main campus. CARE provides confidential services and advocacy for survivors of sexual violence, dating violence, stalking and sexual harassment. The CARE coordinators are available to assist survivors in understanding and navigating university policies and procedures and helps promote the academic success and personal wellness of survivors. The CARE coordinators are also available to the greater K-State community to provide education, training and facilitated conversations around the aforementioned and related topics.
The Center for Advocacy, Response, and Education provides 24-hour assistance for K-State students who have been victimized by violence. We can assist students in working with offices and agencies on and off campus who help students with law enforcement, legal, medical, and academic concerns.
The Center houses the SafeZone Program which trains faculty, staff, and students in providing safe and knowledgeable resources for all in the campus community. The SafeZone program is a campus-wide ally network created to improve reporting of sexual assault and other discriminatory or hateful acts and crimes, as well as to provide support for LGBT students, faculty and staff. The Center for Advocacy, Response & Education works with the K-State Campaign for Nonviolence (CNV) on many justice-related projects.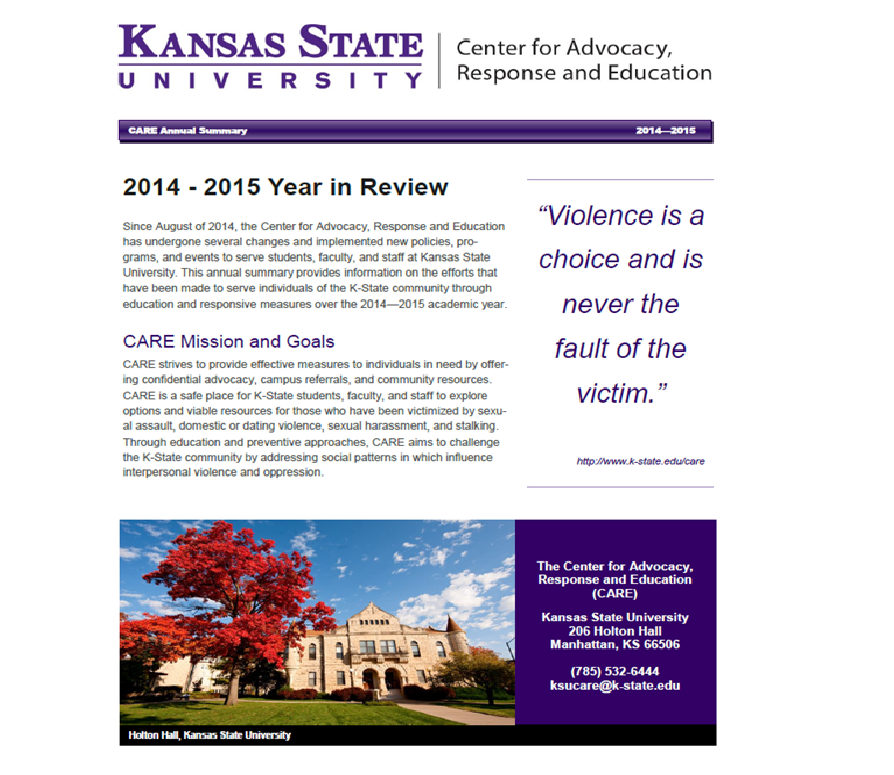 The office in 206 Holton hall is open to all faculty, staff, and students from 8am to 5pm.