Success Stories
Our custom service offerings are sometimes best described through examples. Here are some project descriptions that might resemble what you're trying to do.
George Bush Landon Lecture
Client: K-State President's Office, CNN, Armed Services Network, WDAF-TV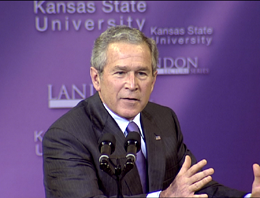 When a standing U.S. President comes to town, everything has to flow smoothly. That's why Kansas State University and network news bureaus rely on the Division of Communications and Marketing's Video and Engineering Services to provide a clean broadcast signal whenever a distinguished speaker comes to Manhattan for the Landon Lecture series.
Special security measures didn't allow large network trucks to park close to the lecture hall the day of President Bush's speech. This would've made it impossible to obtain a video feed, but VES responded early by tackling the logistics of this important broadcast. Having obtained clearances for the crew and Mobile Production unit, VES offered a live signal to eager broadcasters stuck outside. The event was uplinked live via satellite and broadcast globally to military personnel through the Armed Services Network. CNN requested footage, and our Engineering department used the uplink facilities to transmit live interviews and responses to WDAF (in Kansas City) later that evening.
Global Flyer
Client: On Scene Productions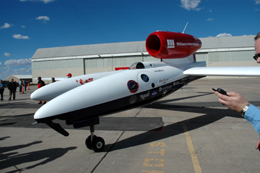 The late, great Steve Fossett's dream of taking a world record flight starting at K-State Salina required planning, determination, and good old-fashioned guts. Video and Engineering Services personnel had to match his efforts to document the world-wide flight as a series of breaking news stories originating around the globe.
Working closely with Virgin Airlines, the VES production and engineering teams helped establish a broadcast command center at the Salina airstrip, from where incoming stories were reported. This was a high profile event for Kansas, Salina, and K-State. It required months of planning and Video and Engineering Services stayed on the scene through several mechanical mishaps and flight postponements due to severe weather. The mobile Satellite Truck and production crew worked two shifts, 24/7 to bring the news to the world as it happened. Our production crew rose to the challenge, capturing once in a lifetime moments like take-off and landing from a second aircraft that had to keep Fossett's flight sharply in focus.
Uniting Troops with Families
Client: Freedom Calls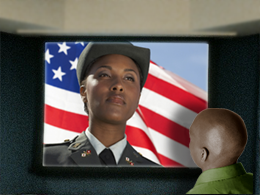 The 82nd Air Med Company at Fort Riley sought how to put their Iraq soldiers in closer touch with those back home, so they contacted Freedom Calls: a nonprofit that helps troops in foreign lands communicate with families. Freedom Calls asked the Division of Communications and Marketing to provide personal contact through videoconferencing, and the DCM called its forces to action.
Through three 8-hour weekend sessions, 16 families participated in two-way interactive video calls with their loved ones. U.S. troops could see and talk with their spouses and children, many after a long absence. Some officers saw their babies walk for the first time! It was a heartwarming experience our folks will long remember.
Meat Packing Safety
Client: K-State Animal Sciences Department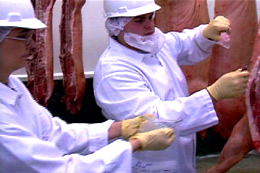 Handling meat is serious business. A wrong move during meat processing could result in illness or death. To help meat packers measure up to the latest safe practices, K-State's Animal Sciences Department received a grant to produce a rigorous training program. But how would they teach such meticulous scientific processes to transient workers?
Video and Engineering Services helped explain safe meat packing in the most accessible way: through engaging instructional video. Our learning experts ensured an educational result, emphasizing each critical step to help workers visualize and remember. Meat plants are noisy, unaccommodating places; yet we delivered clean, professional video that's easy to understand. The Meat Packing Safety videos are now used as the benchmark for similar training programs throughout the state of Kansas.