September 18, 2013
Visiting writer Roxane Gay to read her work Friday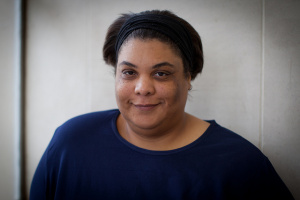 Roxane Gay, award-winning essayist and fiction writer, will read from her work at 3:30 p.m. Friday, Sept. 20, in K-State Student Union Little Theatre.
Gay is an assistant professor of creative writing at Eastern Illinois University and editor of three literary magazines. She is also a well-known critic of literary and popular culture.
A self-described "bad feminist," Haitian-American artist and resident of a small Midwestern college town, she engages questions of race, gender and nationality. She maintains a high profile in the social media with regular articles in Salon, Buzzfeed and the Wall Street Journal, as well as daily observations on Twitter.
Her novel, "An Untamed State," will be published by Grove/Atlantic in 2014 and her essay collection, "Bad Feminist," will be published by Harper Perennial, also in 2014.
Katy Karlin, associate professor of English, describes Gay's work as "indignant but always witty, referential but never obscure."
"If you or your students are interested in women's studies, American ethnic studies, pop culture, rhetoric or simply in the world around them, don't miss Roxane Gay," Karlin said.
Gay's reading is sponsored by the English department and the Creative Writing Enthusiasts, or CreWE. A book signing will follow the reading.