September 18, 2013
Patti Clayton to speak Thursday about engagement at K-State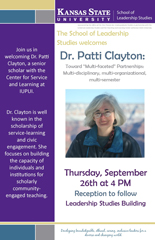 The office of the vice provost for undergraduate studies, in partnership with the School of Leadership Studies and the Teaching and Learning Center of Kansas State University welcome Patti Clayton to campus at 4 p.m. Thursday, Sept. 26, in Town Hall at the Leadership Studies Building. Clayton will present the lecture "Toward 'Multifaceted' Partnerships: Multidisciplinary, multiorganizational, multisemester."
Clayton is a nationally recognized expert in the scholarship of engaged teaching and learning and she will be presenting her work on engaged partnerships at Kansas State University this month.
Clayton also is a senior scholar at the Center for Service and Learning at Indiana University- Purdue University, Indianapolis. She is a visiting scholar with the Institute for Community and Economic Development, University of North Carolina at Greensboro and she is a visiting fellow with the New England Resource Center for Higher Education. Learn more about Clayton's recent work.
Please join Clayton to discuss how Kansas State University can continue edging toward a more engaged process of teaching and learning. There will be a reception with Clayton following the event in the School of Leadership Studies.