September 13, 2013
Letter from A.D. John Currie: Volleyball team, K-StateHD.TV on a roll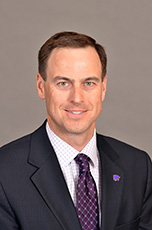 Good morning, K-State Nation.

While our student-athletes and coaches are hard at work in class and in practice, I've spent most of my time in meetings! Early Wednesday morning I utilized our handy American Eagle jet service from MHK to zip down to DFW for an excellent all-day Big 12 ADs' meeting before returning on the tail end of the much-needed rainstorm last night.

Yesterday I attended the KSU Foundation meeting. Under foundation president Fred Cholick and current chair Curt Frasier's leadership, the KSU Foundation has made tremendous progress to develop more funding for scholarships, programs and facilities in support of President Schulz's visionary K-State 2025 goals.

Congratulations are in order to Coach Suzie Fritz and our volleyball team on an undefeated 7-0 start to the season following Tuesday night's win over Tulsa in Ahearn Field House. My daughter and I were among the 2,523 folks enjoying the atmosphere inside Ahearn — great enthusiasm from our students, cheerleaders, Classy Cats, band and, of course, our loyal fans. After road trips to California, Arkansas and Missouri, the team will return home Sept. 24 to face the Italian u23 National team, and we encourage you to be there.

We also salute our fans who toughed out the heat wave to create the second and fourth-largest crowds ever at Bill Snyder Family Stadium to open the season. Saturday night we will wrap up nonconference play at 6:10 p.m. against MAC member UMass. The game, which will be our eighth straight sellout, will be televised exclusively on K-StateHD.TV beginning with a 5:10 p.m. pregame show featuring Brian Smoller and Wildcat legend Kevin Lockett.

As you may know, the Big 12 has excellent long-term contracts with FOX and ABC/ESPN for television rights. As a part of this agreement, every Big 12 home football game can be televised, and the arrangement offers us flexibility in terms of us broadcasting and distributing events that are not selected as part of the league's television package.

Each institution also retains full broadcast and distribution rights for one non-conference football game per season, and our one contest is this week's game with UMass. We have a unique opportunity Saturday night to broadcast Wildcat football and tell the story of Kansas State University literally across the world.

I have had several emails about how to watch the game or obtain ordering information regarding K-StateHD.TV, which has maintained its place as the nation's No. 1 digital network for two years and counting! To watch the UMass game, or any of our 600 hours of programming, visit www.k-statehd.tv and subscribe to the network. Fans have two subscription options of a monthly fee of $9.95 or an annual subscription for just $79.95. With a cable, fans can also connect their computer screen to a television set to create a home theatre experience. If you have any questions or concerns with subscribing or viewing K-StateHD.TV, visit our troubleshooting information page. I encourage fans to subscribe and get set up now rather than waiting until game time just to make sure you have plenty of time for any set-up or connectivity challenges.

Our advantages don't stop with football as we (and our student-athlete families and fans) are excited about the dramatic increase in exposure and visibility for our programs and student-athletes throughout Kansas, the Midwest and the entire country which represents the greatest live distribution of K-State sports in our history!

Our new third-tier multimedia rights agreement is unique and innovative, thanks to the progress and production capabilities invested since we launched K-StateHD.TV. A number of live volleyball, women's basketball and baseball games, and other programming included in this agreement are actually produced and distributed to FOX by our own K-StateHD.TV personnel (including a number of K-State students) — such as Tuesday night's volleyball win over Tulsa which was produced by our staff and aired live both on KStateHD.TV and nationally on FCS. Be sure and check k-statesports.com for a full listing of these games.

We hope to see you in person this weekend with 50,000-plus of your Wildcat friends at Bill Snyder Family Stadium, but if not, tune in to K-StateHD.TV to cheer on the Cats.

Good luck to all of our teams in action in the coming week; it's a busy time with football, volleyball, cross country, equestrian, golf and tennis all competing. Mark your calendars as we will debut the newly-dedicated Mike Goss Tennis Stadium September 20-22 with the K-State Fall Invitational.

Have a great weekend, and...
Go Cats!
John Currie