September 13, 2013
K-State research recognized at American Chemical Society 246th annual meeting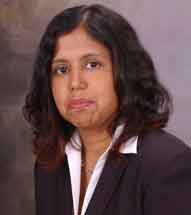 Ganga Hettiarachchi, associate professor of agronomy, soil and environmental chemistry, was invited to present at the 2013 American Chemical Society annual meeting Sept. 8-12 in Indianapolis, Ind., as part of a special symposium titled Biogeochemical Interactions Affecting Bioavailability and Remediation of Hazardous Substances in the Environment: Challenges of In Situ Pb Immobilization: Environmental Factors, Policy, and Risk.
The title of her presentation was "Potential for Transfer of Lead, Arsenic and Polycyclic Aromatic Hydrocarbons from Amended Urban Soils to Vegetables and Humans." The focus of the presentation was on reducing human exposure to soil contaminants from urban agriculture.
Following the symposium, Hettiarachchi was invited by the society to summarize her research to the national media and answer questions at a press conference.
For more information, contact Hettiarachchi at 785-532-7209 or ganga@k-state.edu.