September 13, 2013
Inline hockey charity game, hockey clinic in Shawnee Sept. 15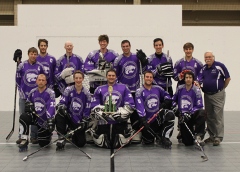 The K-State Inline Hockey Club will take on the Mizzou Inline Hockey Club for a preseason hockey game at 3 p.m. Sunday, Sept. 15, at the KCIC Center in Shawnee. Suggested donation is $5 a person.
All proceeds will go to the Autism Society-the Heartland. In addition, we will have a youth hockey clinic at 1 p.m. and a family skate for those with autism at 2 p.m.
Come out and watch a quality hockey game while supporting a worthy cause. An auction of donated goods, including a team autographed K-State practice jersey, will be available.
For further info, contact the hockey club at hockey@k-state.edu.