September 11, 2013
Zimmerman v Florida: A case analysis from the university's mock trial team
Submitted by Bondy Kaye-Valdovinos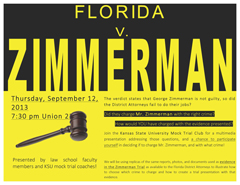 The Kansas State University Mock Trial Team will offer on a seminar analyzing the legal strategies and rhetoric employed in the recent trial of George Zimmerman. The seminar is open to all K-State students interested in the judicial process, law in pop culture and case specific information from the Zimmerman trial. The seminar will feature a multimedia presentation and copies of actual evidence introduced in the trial.
The seminar will take place at 7:30 p.m. Thursday, Sept. 12, in Room 226 of the K-State Student Union. It will be taught by Benjamin Long and Britain Stites, practicing attorneys and Washburn Law adjunct professors, and Nikki Marcotte a K-State alumni and former mock trial competitor.
Last year the K-State Varsity Mock Trial Team made it to the American Mock Trial Association's opening round championship tournament, placing ninth overall and the only team to win the coveted American Mock Trial Association Award.