September 11, 2013
Mike Young is gaming, immersive environments speaker Sept. 12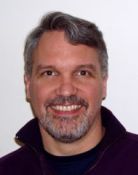 Mike Young, professor and department head of psychological sciences, will present "Using a video game to study human cognition" at noon Sept. 12 in 16a Bluemont Hall, which in the basement inside the Catalyst Media Center.
Young will share the approach, data and lessons learned in using a video game engine to create a platform for conducting experiments in cognitive psychology. His research program has used gaming to study causal inference, impulsive choice and risky decisions.
This work has been funded by the Air Force Office for Scientific Research, National Science Foundation and National Institute for Drug Abuse.
This presentation will be videotaped. Contact Brent Anders, K-State electronic media coordinator, superman@k-state.edu for access.