March 23, 2022
Big 12 Virtual Career Fair today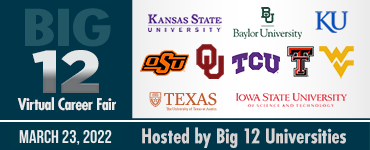 The K-State Career Center will co-host the Big 12 Virtual Career Fair from 10 a.m.-5 p.m. CDT Wednesday, March 23, online via Career Eco. Join from the comfort of home or in between classes.
Current and former Wildcats are invited to connect with more than 200 employers — a record-breaking number — who are interested in finding talent from all majors. A list of participating employers is available on the career fair website. Those interested can register in advance or log in during career fair hours.
"There is an amazing variety of industries and opportunities available across all sectors," said Kerri Keller, executive director of the K-State Career Center. "Several employers include organizations not seen in person at K-State career fairs this last year."
Among the participating employers:
• Nonprofit — Accel Schools, Americorps, Bright Horizons, Southwest Conservation Corps, Kennedy Krieger Institute, Orenda Education, Uncommon Schools and Upbring.
• Government — FDIC, Federal Reserve Bank, International Atomic Energy Agency, Texas Parks and Wildlife and the U.S. Department of Justice.
• Corporate — 3M, Bliss Point Media, Boston Scientific, CDW, DigitalHire, DirectTV, Holland America/Princess Cruises, Jackson Family Wines, Lumen Technologies, MedPace, Neighborly, Nestle Purina, Samsung, ScribeAmerica, Seoul Robotics, SkyCam, Universal Orlando and VI Marketing & Branding.
The Career Center website features tips and resources to help students ensure a successful virtual fair experience. This is one of the last career fairs for students to participate in before spring commencement.
Questions about the event can be sent to careercenter@k-state.edu.