March 23, 2022
Anubhav-Experience series: Kutiyattam, Sanskrit theatre Thursday
Submitted by Prasanth Chandran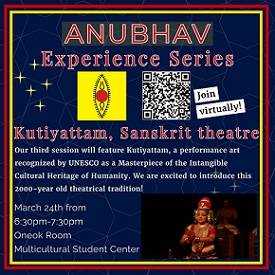 SPICMACAY, a registered independent student organization, will explore the wonderful and masterful performance art form of Kutiyattam, Sanskrit theatre, which is practiced in the province of Kerala, India. Attend Anubhav-Experience series: Kutiyattam, Sanskrit theatre, from 6:30-7:30 p.m. Thursday, March 24, in the ONEOK Room at the Morris Family Multicultural Student Center or virtually via Zoom.
Originating more than 2,000 years ago, Kutiyattam represents a synthesis of Sanskrit classicism and reflects the local traditions of Kerala. In its stylized and codified theatrical language, neta abhinaya, or eye expression, and hasta abhinaya, the language of gestures, are prominent. They focus on the thoughts and feelings of the main character. It is officially recognized by the United Nations Educational, Scientific and Cultural Organization as a Masterpiece of the Oral and Intangible Heritage of Humanity.
To join via Zoom, please register here and a Zoom link will be sent on the day of the event.