March 11, 2022
Entrepreneurship Center is hosting Live Pitch Night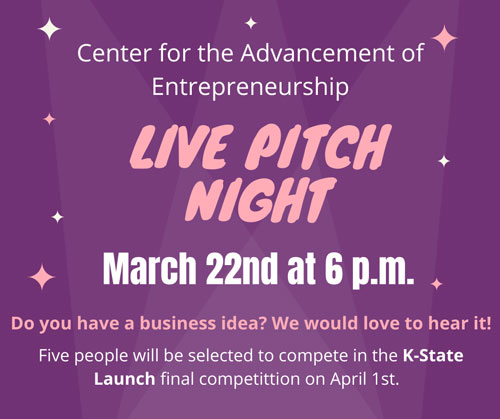 Do you have a business idea? If so, we would love to hear it! The K-State Entrepreneurship Club, a registered departmental student organization, will host a "Shark Tank" style pitch competition. Live Pitch Night will take place at 6 p.m. March 22 in the Entrepreneurship Center at the Business Building. Students will have three minutes to present their business idea to a panel of judges.
Whether you have an existing business or the next big idea — there is a place for you! Students may present individually or in teams. Five presentations from E-Club's Live Pitch Night will advance to the final K-State Launch competition on April 1. All finalists will earn a $200 general scholarship. The top teams at K-State Launch will earn the following prizes:
First place: $1,250 cash and $1,250 scholarship for next entrepreneurship course.
Second place: $750 cash and $750 scholarship for next entrepreneurship course.
Third place: $500 cash and $500 scholarship for next entrepreneurship course.
Sign up online for Live Pitch Night.
If you have any questions, email Rylie May at rylie2@k-state.edu.