September 3, 2021
Tod Kerstetter memorials this weekend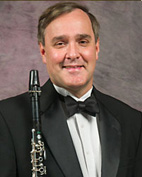 This weekend, one of K-State's most distinguished musicians and educators, Kelvin "Tod" Kerstetter, will be memorialized. Kerstetter died on July 12 after a lengthy and courageous battle with pancreatic cancer.
A celebration of Kerstetter's life will be at 2 p.m. Saturday, Sept. 4. The following afternoon at 3 p.m., his students will present a memorial concert. Both events will be in K-State's All Faiths Chapel.
Kerstetter and his wife, Jacqueline Fassler-Kerstetter, joined the K-State music faculty in 1999, and both have made an enormous impact on music in Manhattan ever since.
One of the most versatile musicians ever to grace the Manhattan musical scene, Kerstetter was a virtuoso on all types of clarinets and saxophones, a distinguished arranger and editor, and perceptive and beloved private and classroom teacher. He was a master of numerous musical genres, ranging from Dixieland, klezmer, bebop and cool jazz to classical and avant-garde idioms. Kerstetter was a member of professional orchestras in the U.S., Mexico and Italy, and performed as a soloist in 16 different countries. He was elected treasurer of the International Clarinet Association for five consecutive terms.
Kerstetter was a frequent participant in Hale Library concerts, a regular in the annual Jazz in June concerts and a classical clarinetist in solo recitals, chamber music performances and tribute concerts to composers such as Leonard Bernstein and Gail Kubik. Many of his performances at K-State and elsewhere can be viewed on YouTube.