September 3, 2021
Landscape architecture student earns Ekdahl Scholarship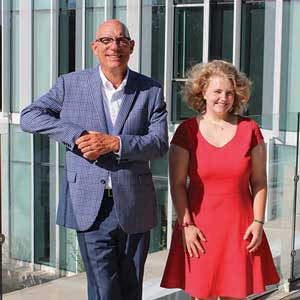 Students from the College of Architecture, Planning & Design participated in the first Oscar S. Ekdahl Distinguished Lecture Series in Architecture and Design poster contest for the opportunity to earn a $2,000 scholarship and design the posters for all the upcoming series lectures. Chloe Gillespie, fourth-year student in landscape architecture, Kearney, Missouri, is the 2021-2022 contest winner.
"The range of poster design proposals was impressive, making the selection of one winner very difficult," said Tim de Noble, dean of the college. "Chloe's proposal beautifully captures the diversity of our degrees and speakers while capturing through graphics the potency of having all of the design and planning disciplines in APDesign."
Each student was challenged to create a series of posters that would be used to inform the public about the Ekdahl Lecture Series by submitting a season poster with all five lectures from the fall line-up and an individual lecture poster in both digital and print copy formats. The posters were submitted to a panel for a blind review to select the winning entry.
View a full listing of the 2020-2021 Ekdahl Lectures.
The Oscar S. Ekdahl Distinguished Lecture Series in Architecture and Design brings the finest professionals in the design and planning disciplines to APDesign and the K-State community. These individuals are selected to avail faculty, staff, students and regional professionals to the potency of design and planning in addressing the issues we face as a global society. The series honors Oscar Ekdahl, who received his Bachelor of Architecture from Kansas State University in 1933 and was a founding partner in Ekdahl, Davis, Depew, Persson Architects PA in Topeka.