December 2, 2020
Vote for the best picture book of 2020 at the 13th annual Mock Caldecott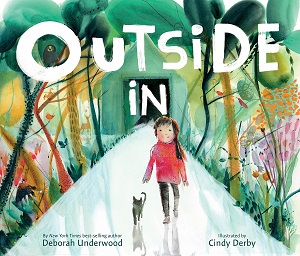 What's the best picture book of 2020? You can help decide at this year's Mock Caldecott.
The event will be from 2-3 p.m. Saturday, Dec. 5, via Zoom. To register, visit tinyurl.com/chalc2020books.
Sponsored by the Children's and Adolescent Literature Community and the English department's program in children's literature in the College of Arts and Sciences and by the Manhattan Public Library, the Mock Caldecott includes a discussion of the most distinguished picture books of 2020, followed by a vote to determine this year's winner.
The American Library Association awards the Caldecott Medal to the most distinguished American picture book for children, as well as recognizing the runners-up. The medal is named for Randolph Caldecott, a 19th-century English illustrator.
"Now in its 13th year, the Mock Caldecott brings students, faculty and community members together to enjoy the best picture books published in the past year, assembling our short list from prominent reviewers at Publisher's Weekly and librarian Betsy Bird's blog for the School Library Journal," said Karin Westman, head of the English department and faculty advisor for the Children's and Adolescent Literature Community. "Due to COVID-19, we are adjusting the event so participants can review books asynchronously in advance and then gather via Zoom on Saturday to discuss together the short list of titles and vote."
Selected picture books will be available for review from the English Department blog as of Dec. 1, with the option to vote for first-round favorites by Dec. 4. On Saturday, Dec. 5, a brief presentation at 2 p.m. will describe the history and criteria for the award, followed by discussion of the short list of titles and a vote to determine this year's winner.
Phil Nel, university distinguished professor of English, values the opportunity to enjoy the art of the picture book and gain new perspectives.
"Need a break from end-of-term stress, or some inspiration for the weeks ahead? I recommend art and stories, Nel said. "Browse through the selected titles in advance and then, on Saturday, discuss the best picture books of 2020."
This year's contenders include "A New Green Day" by Antoinette Portis, "Outside In" by Deborah Underwood and Cindy Derby, "We are Water Protectors" by Carole Lindstrom and Michaela Goade, and "Honeybee: The Busy Life of Apis Mellifera" by Candace Fleming and Eric Rohmann.
"I'm excited for a change of pace in both content and format as we near the end of a rather stressful, and certainly very unusual, semester," said Sariah Cheadle, first-year graduate student in English and co-president of the Children's and Adolescent Literature Community. "This year will be my very first Mock Caldecott event, and I'm looking forward to the opportunity to read and discuss some beautiful picture books."
Caitlin Hymans, second-year graduate student in English and co-president of ChALC, agrees with Cheadle.
"The Mock Caldecott provides an opportunity for those passionate about children's literature to gather together to acknowledge the craftsmanship that goes into producing children's texts," Hymans said. "I enjoy the sense of community this event provides and am hopeful that this year's virtual event will allow us to continue pursuing discussions of possible Caldecott contenders."
Results will be posted to the English department's social media platforms on Twitter, Facebook and Instagram.
Participation at the event will count for "Service to the Profession: Professional Growth" for education majors. For more information, contact chalc@k-state.edu or english@k-state.edu.