December 2, 2020
Spahr, Jani and Rojkovskaia recognized as Professor and Professional Staff of the Week honorees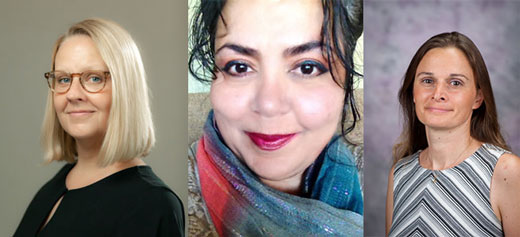 From left Kendra Spahr, Vibhavari Jani and Natalia Rojkovskaia.
Kendra Spahr, academic services librarian; Vibhavari Jani, associate professor of interior architecture and industrial design; and Natalia Rojkovskaia, professor of mathematics, were to be recognized as Professor and Professional Staff of the Week at the Nov. 25, 27 and 30 men's home basketball games, respectively. Due to COVID-19 restrictions, no fans were in attendance for those games. Yet, Faculty Senate, the Office of the President, K-State Athletics and the Division of Communications and Marketing still wish to recognize these individuals' contributions to K-State.
Spahr, who joined K-State in 2016, has become an indispensable resource to students and faculty in social sciences and the College of Business Administration. She has designed and delivered over 140 information literacy instruction sessions to more than 4,200 students. Spahr was the 2020 recipient of the Brice G. Hobrock Distinguished Faculty Award for K-State Libraries. She has been the co-leader of the Developing Scholars Research Seminar since fall 2017. She also has served on the Office of Undergraduate Research and Creative Inquiry Advisory Council.
Jani has had a transformative effect on the evolution of the interior architecture program and the students she instructs. A longtime proponent of evidenced-based design, she shares her passion for research with every student in the interior architecture program. For a field that is historically not well-grounded in research, her contributions have been transformative. For the past 10 years, Jani has had the responsibility for the development and teaching of the Design Research course in the department. In her graduate-level capstone studio course, she has guided nearly 200 students in the execution of a variety of service-learning projects. Her students will apply what they have learned to countless future projects that will positively impact people's lives.
Rohskovskaia joined the mathematics department in 2008. In addition to her research work, she has distinguished herself for her work with budding mathematicians: she has directed the Math Circles for elementary school students in Manhattan from 2009-2019 as well as in Berkeley, California, and at Moscow School 125 during sabbaticals. Since 2016, she has organized the Kansas Kangaroo Math Competition, in connection with the Math Circles program. As the pandemic hit during summer 2020, Rohskvskaia worked with colleagues and in collaboration with UFM to organize the Summer Math Circles Seminar online workshops for students in second to eighth grades. Rohskovskaia consistently directs graduate and undergraduate students in research.