February 7, 2020
Lafene Health Center names 2019 Champion Flu Fighters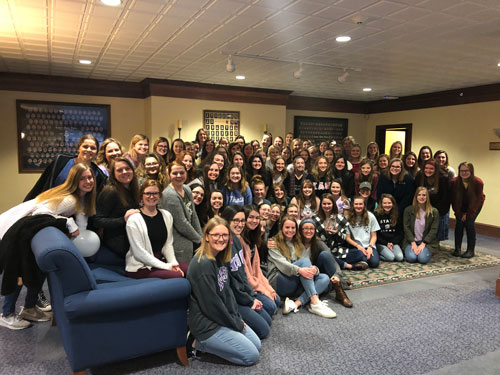 Kappa Alpha Theta sorority, a registered independent student organization, has been named the 2019 Champion Flu Fighters by Lafene Health Center.
The sorority had the highest percentage of its membership receive the flu vaccine during the walk-in flu clinic, from Oct. 1 to Dec. 6, 2019. The sorority was presented with the trophy on Feb. 5.
Flu activity is high in the U.S. and is expected to continue for weeks. The Centers for Disease Control and Prevention estimates that so far this season there have been at least 19 million flu illnesses, 180,000 hospitalizations, and 10,000 deaths from flu. Getting a flu vaccine every year is the best way to protect yourself and your family from flu and its potentially serious complications.
The CDC recommends a three-step approach to fight flu:
Get a flu vaccine. It's not too late to get vaccinated.
Take everyday actions to stop the spread of germs. Try to avoid close contact with sick people, and if you become sick, limit your contact with others. Cover your nose and mouth with a tissue when you cough or sneeze, and wash your hands often.
Take flu antiviral drugs if your doctor prescribes them. If you get sick with flu, prescription flu antiviral drugs can be used to treat flu illness. Antiviral drugs can make illness milder and shorten the time you are sick. They may also prevent serious flu complications.
Schedule an appointment today for your flu vaccine through the myLafene patient portal on the Lafene Health Center website or call 785-532-6544.
Thank you to all the members of the Greek community who participated in the challenge.