December 13, 2019
Barrett meets with congressional members
Submitted by K-State Clery Compliance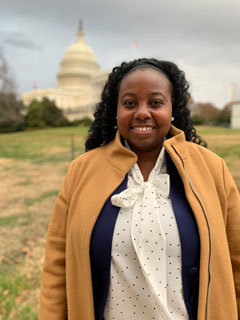 Sarah Barrett, program/project consultant for Clery Act federal compliance, participated in the 2019 NASPA Hill Days on Capitol Hill.

More than a simple fly-in advocacy day, the 2019 NASPA Hill Days experience provides training and practice in civic engagement for student affairs professionals across the country.
Barrett participated in policy briefings as well as advocacy and civic learning training throughout the summer and fall to prepare for her for visits with congressional members and staff earlier this month as part of the 2019 NASPA delegation.

NASPA — Student Affairs Administrators in Higher Education — is the leading association for the advancement, health and sustainability of the student affairs profession. NASPA members represent a full range of professionals who provide programs, experiences and services that cultivate student learning and success. Established in 1918 and founded in 1919, NASPA is comprised of more than 15,000 members in all 50 states, 25 countries and eight U.S. Territories.
Barrett was selected from thousands of members to be part of the 70-member delegation that participated in exclusive briefings with Capitol Hill staff and meetings with congressional members in the House and Senate.
Barrett reports being interested in the program because it fully aligns with her passions and work at K-State.
"Student affairs is a critical component of the higher education experience, and as an assistant dean and director of student life, I worked to positively enhance the K-State student experience and promote student success in the classroom and in life," she said.
As founder and supervisor of the Cats' Cupboard, the K-State food pantry, student health and well-being have consistently been priorities for Barrett. An additional aspect of student well-being is health and safety, a major component of the Clery Act, which Barrett now oversees across the university.
"Part of the Hill Days platform was to advocate for an alignment of Title IX with the Clery Act to address dual processes and reporting requirements across campuses," Barrett said. "So while our Report It webpage allows for convenient and timely reporting, increased clarification and understanding of overlap between these laws will benefit all universities, as they work to adhere to federal compliance mandates."
During her time on the Hill, Barrett met with both Rep. Roger Marshall and Sen. Jerry Moran's office of Kansas, as well as Rep. Alma Adams and the offices of Rep. Ted Budd, Sen. Thom Tillis, and Sen. Richard Burr of North Carolina to advocate for higher education.
"Most of my work in government and service has occurred on the local level as the Manhattan Social Services Advisory Board chair, participating on the Riley County FEMA ESP board, and even on the Ascension Via Christi Hospital Board," Barrett said. "However, this was on another level. It's my hope to run for office one day, and this was a great preview of the process and why it's important to develop informed policy. I hope to participate again in 2021 and would encourage other student affairs professionals to do the same."