December 12, 2019
Muriago performs and teaches in China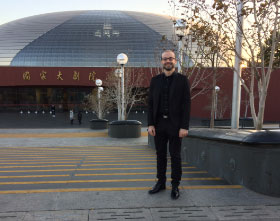 Piano faculty Agustin Muriago recently traveled to China, where he offered master classes and recitals in Shanghai, Beijing and Hong Kong.
Muriago participated in the "Argentina Festival" in Hong Kong, playing a program dedicated to Argentine piano music. In Beijing, he performed at the National Center for the Performing Arts, the largest theater complex in Asia. During this trip Muriago taught master classes at New York University's Shanghai campus and at the Central Conservatory of Music in Beijing.
Faculty in the School of Music, Theatre, and Dance have received Grammy awards and nominations, and Emmy awards; produced recordings on international and national CD labels and published books and journal articles with international and national publishing houses and professional organizations; and performed and presented research in every continent in the world, except Antarctica. The School of Music, Theatre, and Dance is a part of the College of Arts and Sciences. Visit k-state.edu/mtd to learn more about music, theatre and dance at K-State.