December 11, 2019
K-State hosts Cochran fellows from the Caribbean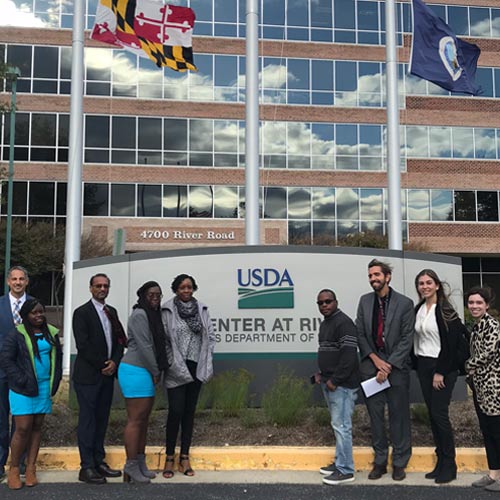 Faculty from the College of Veterinary Medicine and the College of Agriculture recently hosted a group of trade officials from the Caribbean during a two-week Cochran fellows training event focused on food safety and trade regulations.
The Cochran Fellowship Program, sponsored by the U.S. Department of Agriculture, offers training opportunities to agricultural professionals from middle-income countries and emerging markets and democracies. Its goals include helping eligible countries to develop their own agricultural systems that meet the food needs of their populations, and to enhance their trade relationship with the United States.
Justin Kastner, associate professor of diagnostic medicine and pathobiology, led the trip to several sites along with Jessie Vipham, assistant professor of animal sciences and industry.
"The Cochran Fellowship is a wonderful opportunity for K-State to engage with professionals from around the world, and to have the opportunity to learn about the challenges they face and the opportunities that exist," Vipham said.
This year's group of fellows included regulatory and trade officials from St. Vincent and the Grenadines, Grenada and St. Lucia.
"Fellows participated in a combination of events in Washington, D.C.; Manhattan and Kansas City, Kansas; St. Joseph, Missouri; and multiple places in Florida," Kastner said. "We facilitated a variety of meetings with policy and regulatory officials from the likes of the USDA, FDA, APHIS, CBP and FAS."
Carla Schwan, doctoral student in food science and main teaching assistant for the trip, presented lectures and led discussions with the fellows.
"The goal of this program is about providing experiences and knowledge, and sharing past and future objectives with the country you're helping, in terms of trade and regulations in food policy and safety," Schwan said. "In the case of exports, we see how they comply with regulations in order to import or export to the U.S. and how to be successful in that sense. So, we are creating or improving that relationship if there is not already one established."
In St. Joseph, the fellows toured a pork processing facility, where they met with a meat scientist in charge of quality assurance and learned how to create a product in compliance with USDA regulations.
The fellows also visited Woodyard BBQ in Kansas City, Kansas, for a group dinner and food safety lecture from Danny Unruh, a former doctoral student under Kastner.
Tours in Florida encompassed the produce and seafood side of food safety, with visits to a tomato packing house and to Seafarers, a high-tech seafood processing operation that uses HPP, or high-pressure processing.
"When we were at Seafarers, it was processing crab meat," Schwan said. "How this works is through gigantic equipment filled with water and small containers of crab meat. Because of the amount of water that is inside, the pressure that is created against the crab meat destroys any pathogens. The amount of water put into the tank is equivalent of 24 elephants standing on top of those little containers."
Other guest speakers from K-State included Valentina Trinetta, assistant professor of animal sciences and industry; Jim Stack, professor of plant pathology; and Abbey Nutsch and Sara Gragg, associate professors in the Food Science Institute.
The past five Cochran trips led by Kastner and College of Veterinary Medicine faculty have included fellows from Thailand, Egypt, Central America and East Africa.