December 11, 2019
Undergraduate journal reaches 7,000 downloads, invites campus participation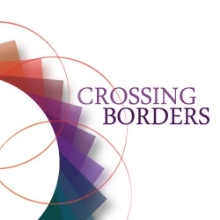 Crossing Borders: A Multidisciplinary Journal of Undergraduate Scholarship recently reached a landmark distribution of undergraduate research and creative activity with over 7,000 downloads of its peer-reviewed publications.
Crossing Borders publishes contributions with a single area or multiple areas of focus. The open-access journal is published by New Prairie Press, an online imprint of K-State Libraries, and allows students to share their work with a wider community of scholars.
Since its launch in 2015, readers in 121 countries and over 600 institutions have accessed the journal's undergraduate scholarship.
In October 2019, Crossing Borders had 298 full-text downloads, and the top three most frequently accessed essays represent the range of subjects that the journal publishes:
• "The Girls and the Others: Racialized Anthropomorphism in the First Season of The Powerpuff Girls" by Jalen Thompson (BA '18, University of Montevallo)
• "A Case Study in Tipping: An Economic Anomaly" by Megan Nelson (BS '14, University of Kansas)
• "The Knights of the Front: Medieval History's Influence on Great War Propaganda" by Haley Claxton (BA '15, Kansas State University)
Students interested in submitting full-length scholarly essays, book reviews, field notes, or exhibition reviews should visit the "Information for Authors" and "Author's Toolkit" for submission guidelines.
The first author must be a current or recently graduated (within six months of graduation) undergraduate at the time of submission. Co-authors may be students, community members, post-docs, or faculty mentors.
The editorial team hopes that faculty will encourage undergraduate students to submit successful essays for peer-reviewed publication. Independent undergraduate student research projects are also strong candidates for consideration.
Crossing Borders is a partnership between K-State Libraries, the English department, the University Honors Program, and Frontier, an interdisciplinary program involving undergraduate students at K-State and a number of other universities. Additional sponsorship comes from the Office of the Vice Provost for Student Success and the Office of Undergraduate Research and Creative Inquiry.
The journal's editors include faculty and staff members Daniel Ireton, associate professor of Academic Services, K-State Libraries; Karin Westman, associate professor and department head of English, College of Arts and Sciences; Katie Heinrich, associate professor of kinesiology, College of Health and Human Sciences; J. Spencer Clark, associate professor of curriculum and instruction, College of Education; Jeremy Marshall, associate professor of entomology, College of Agriculture; Maggie Borders, academic specialist, McNair Scholars Program; and Veronica Denison, assistant university archivist, K-State Libraries.
Additional editorial support is provided by Tanya Gonzalez, managing editor and professor of English and by Ryan Otto, assistant professor of Digital Scholarship, K-State Libraries.
The editorial team can be contacted at crossingborders@k-state.edu.