November 14, 2019
Christine Wilson recognized as Professor of the Week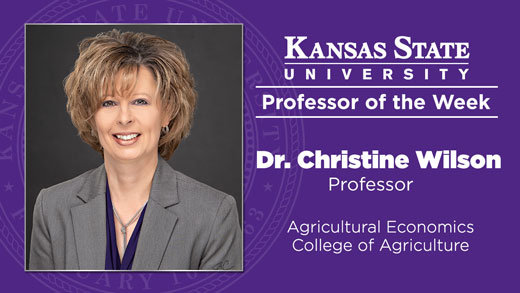 Christine Wilson, professor and director of undergraduate programs in the agricultural economics department, was recognized as Professor of the Week at the Nov. 13 men's home basketball game.
Wilson has earned a national reputation for her commitment to students and teaching. Wilson joined the faculty at K-State in 2008 after spending seven years as a faculty member at Purdue University. Wilson first served as the assistant dean of academic programs in the College of Agriculture until she moved to the agricultural economics department to serve as professor and director of undergraduate programs in 2015. Wilson teaches four undergraduate courses, including Agricultural Finance, Freshman Orientation, Decision Tools for Agricultural Economics, and Small Business Operations, and one graduate course in Risk Management. She serves as advisor to 30 undergraduate students. As the director of undergraduate programs, she has responsibility for undergraduate program curriculum, scholarships, recruitment, advising, new student enrollment and student awards.
Her research focuses on agribusiness and farm management issues, including finance, management, production, demand and agricultural food and business marketing issues. Her extension and outreach work includes courses, workshops, and trade press publications related to her research and teaching expertise in finance, marketing, and farm and business management.
Wilson has been recognized as an outstanding educator and leader with numerous honors and awards throughout her career, including the 2019 Kansas State University Presidential Award for Excellence in Undergraduate Teaching, the 2019 College of Agriculture Alumni Board David Mugler Outstanding Teaching Award, and the 2019 Agricultural & Applied Economics Association Distinguished Teaching Award — More than Ten Years' Experience.
The Professor of the Week recognition is coordinated by Faculty Senate, the president's office, K-State Athletics and the Division of Communications and Marketing. Recipients are faculty members selected by Faculty Senate caucuses. Those selected are provided tickets to a men's home basketball game of their choosing and are recognized during halftime. This is just a small token of appreciation for those who teach at K-State.