November 8, 2019
Polytechnic team selected for K-State Innovation and Economic Engagement Award of Excellence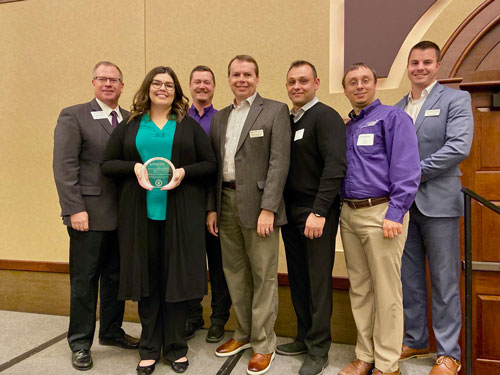 The Kansas State University Applied Aviation Research Center and professional education and outreach at the K-State Polytechnic campus have been awarded the 2019 Innovation and Economic Engagement Award of Excellence.
The team, led by Kurt Carraway, unmanned aircraft systems executive director of the Applied Aviation Research Center, and Kirsten Zoller, director of professional education and outreach, deliver professional unmanned aircraft systems short course training to the public. This training provides access to the university's UAS researchers and expands technology knowledge and utilization in communities across Kansas. Carraway and Zoller were recognized on behalf of their team at Research Connections, an event designed to give K-State researchers a venue in which they can learn what their colleagues are doing, promote their own work and explore possible collaborations.
"The winners of the 2019 award are leveraging the resources that K-State offers in a unique way to grow the aviation industry," said Peter Dorhout, vice president for research. "Their work equips students with immediately impactful skills through providing accessible, practical learning in a manner in which industry professionals, entrepreneurs, and fellow educators can benefit."
A panel of external reviewers chose a winner based on the group's important effects on safety and regulation in enabling the growth of the UAS industry and the measurable impacts and success rates of the programs. The trainings offered demonstrate that K-State is a leader in the UAS industry.
"It is an honor to receive the 2019 Excellence in Innovation and Economic Engagement Award," Carraway said. "This award reflects the confluence of a partnership between the Applied Aviation Research Center and campus experts in our professional education and outreach organization. Our short courses enable us to fulfill a key element of our land-grant mission, transferring our UAS expertise in an effective manner through a hands-on experience that promotes the economic development of organizations in our region. This initiative, coupled with our research and engagement efforts, is effective in supporting our vision for global recognition of our UAS program."
Other finalists for the award included Extractable Microwell Array Technology which addresses high-priority applications in the food, energy, water, and health sectors, submitted by Ryan Hansen, assistant professor in chemical engineering; and the K-State Career Center's Career Meet-Ups, which connect K-State talent with niche industries that may not typically participate in traditional career fairs or on-campus interviews, submitted by Kerri Keller, executive director of the Career Center.
The Innovation and Economic Engagement Award of Excellence was created in 2017 as a result of Kansas State University being named an Innovation and Economic Prosperity University by the Association of Public and Land-Grant Universities Commission on Innovation, Competitiveness, and Economic Prosperity for the institution's strong commitment to economic engagement.
The award recognizes faculty and staff, centers, institutes and units engaged in work that advance innovation and the economic prosperity of our region and recognizes exemplary economic engagement across efforts in talent, innovation and place, and the intersections of these categories.