November 8, 2019
Veterinary professor receives double honors from national organization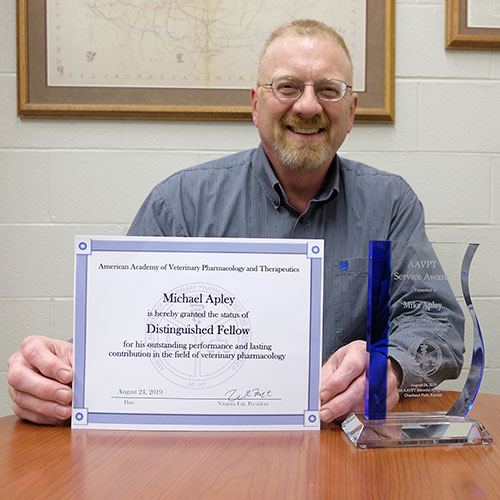 The College of Veterinary Medicine's Michael Apley recently received a pair of accolades from the American Academy of Veterinary Pharmacology and Therapeutics at its Biennial Symposium in Overland Park.
Apley, who is a professor of production medicine and clinical pharmacology, was presented with the AAVPT Service Award and elected as a distinguished fellow of the academy. The service award is presented every other year to recognize exceptional and sustained service either to the academy or to the profession of veterinary or comparative pharmacology, or therapeutics, at large. The distinguished fellow is a membership category reserved for fellows who have made an outstanding contribution to the field of veterinary pharmacology.
"It was wonderful to receive this recognition among many longtime friends and colleagues who have the same passion about the science of using drugs in animals," Apley said. "I hope that everyone has the same blessings as I have had — to be surrounded by multiple groups of colleagues sharing their expertise and experience in your fields of interest."
The academy's president, Virginia Fajt, who presented the honors, has worked closely with Apley as one of his former graduate students and in numerous professional endeavors.
"Dr. Apley has been a role model for how to provide service to the veterinary profession using his expertise as a clinical pharmacologist," Fajt said. "He has served multiple professional organizations by applying that expertise to important issues of policy, professional conduct and veterinary training."
Apley has conducted research on infectious disease, antibiotic efficacy and resistance, drug residues and applications of drugs in food animals. He is well-known for his work with veterinarians and producers throughout the United States regarding the use of pharmaceutical drugs in food animals, as well as feedlot health.
A student of Kansas State University three times over, Apley earned a bachelor's degree in 1981, a Doctor of Veterinary Medicine degree in 1987 and a doctorate in clinical pharmacology in 1992. He is a diplomate and past president of the American College of Veterinary Pharmacology and a member and past president of both the Academy of Veterinary Consultants and the American Association of Bovine Practitioners. Since 2015, Apley has served on the Presidential Advisory Council on Combating Antibiotic-Resistant Bacteria under the U.S. Department of Health and Human Services.
Apley began his career in veterinary medicine with a general practice in central Kansas, then moved to a feedlot consulting/contract research practice in Colorado. He later joined the faculty at Iowa State University College of Veterinary Medicine as a professor of veterinary clinical science. He left in 2005 and joined the Kansas State College of Veterinary Medicine, where he now teaches in beef production medicine, large animal medicine and clinical pharmacology courses.