October 9, 2019
'Growing our Mindset: Why Diversity Matters in Agriculture' forum Oct. 15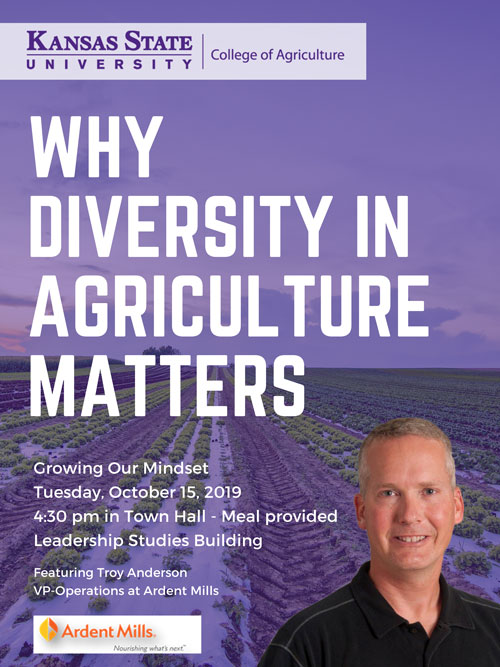 To continue the dialogue of inclusion and diversity, the College of Agriculture's student leadership will present the fall 2019 student-led diversity forum, "Growing our Mindset: Why Diversity Matters in Agriculture," from 4:30-6 p.m. Tuesday, Oct. 15, in Town Hall at the Leadership Studies Building.
The event will include refreshments and pizza. The student groups who will lead the event are: College of Agriculture Ambassadors, Ag Student Council and the K-State MANRRS chapter.
The session will be led by corporate partner Troy Anderson, vice president of operations for Ardent Mills, who is an alumnus of the College of Agriculture's grain sciences and industry department, and current member of the Dean's Advisory Board.
Anderson will discuss the importance of appreciating differences and why it is vital to have a cultural competent workforce. The event promises to be engaging and impactful, yet, can only be great with your participation.