May 17, 2019
Wear your Hale T-shirt on May 22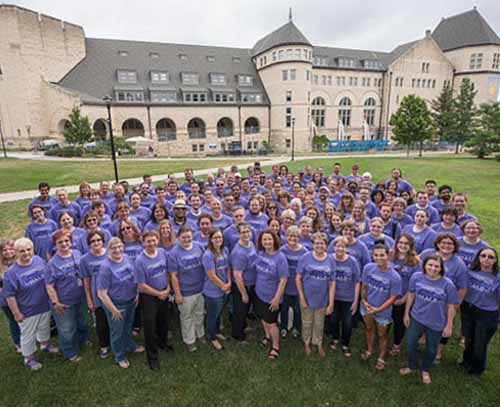 K-State Libraries and Information Technology Services thank the K-State community for their support over the past year. Since the fire in Hale Library on May 22, 2018, many of you have contributed to our recovery in some way. Whether it was providing space for our employees to work, waiving fees for meeting rooms and events, providing a breakfast for our staff, or sending words of encouragement, every gesture has been appreciated more than you can know.
Please join our staff in wearing your Hale T-shirt on Wednesday, May 22, 2019, as a show of the resiliency of our K-State family. We would love to see your photos of you wearing your T-shirt on social media. Tag us with @kstatelibraries on Facebook, Instagram and Twitter.
A limited number of T-shirts are still available at the Library Help Desk in the K-State Student Union. Proceeds help support the renovation and restoration efforts.
We look forward to seeing everyone next fall when we will open the Dave and Ellie Everitt Learning Commons located on the first floor of Hale Library. Follow our progress this summer and subscribe to the Hale Library blog.