May 17, 2019
Amy Scott-Sanjur earns College of Business Administration's Outstanding Senior Award
Submitted by Brent Fritzemeier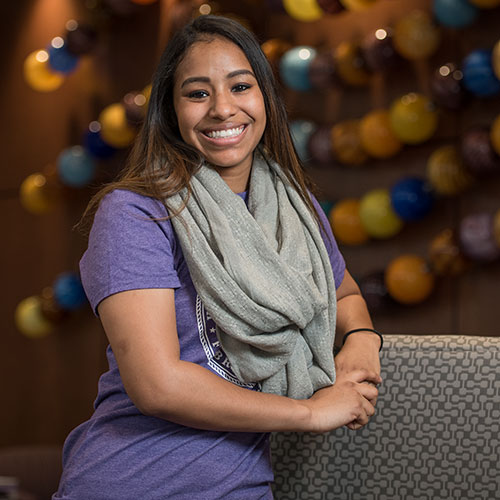 Amy Scott-Sanjur, a May 2019 bachelor's candidate in accounting, is the Kansas State University College of Business Administration's Outstanding Senior in Business for spring 2019.
The award is presented each semester to a graduating senior who has made notable contributions to the college.
While an undergraduate, Scott-Sanjur has served the college in a number of ways, demonstrating her ability to make an impact on her peers and the organizations in which she serves while maintaining academic excellence. Her many leadership roles at K-State included serving as president of the Dean's Student Advisory Council, secretary of the Student Accounting Society, and director of Banquets and Recognitions for the Blue Key Honorary Society. Further, she gained a global perspective through her study abroad experiences in Spain and Italy.
Scott-Sanjur also has been dedicated to improving the K-State culture as a member of the Student Alumni Board and working with potential student recruits as a Business Ambassador. She has served as a peer mentor in Blue Key and to Ellis Scholar freshmen, and also worked to enhance diversity and inclusion as a member of the Multicultural Business Student Association and the Black Student Union. Scott-Sanjur has led a number of leadership workshops throughout campus for various university events, including the "For Sophomores Only Night."
As a student, Scott-Sanjur has excelled and has received a number of honors and awards, including being named a Phillips 66 SHIELD Scholar, a Project IMPACT Scholar, a Koch Discovery Scholar and in earning the K-State Business Professional Development Advantage Certificate. She did all this while holding down two jobs to support herself while in college.

Following graduation, Scott-Sanjur plans to do her second summer internship at Phillips 66 in Bartlesville, Oklahoma, before returning to K-State in the fall of 2019 to begin her graduate studies in the master of accountancy program.

Scott-Sanjur is the daughter of Gadira Scott-Sanjur and a graduate of Junction City High School.