May 8, 2019
K-State Debate finishes season on a high note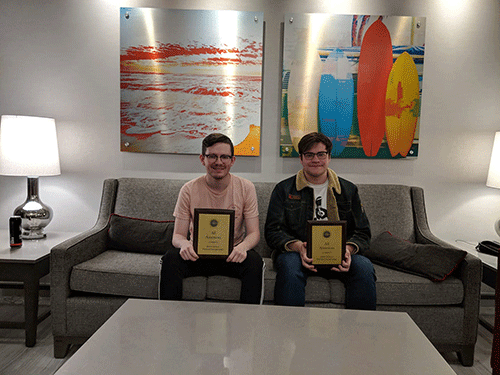 K-State Debate finished the 2018-2019 season strong with a number of competitive and academic successes.
In April, K-State's Policy Debate squad traveled to Long Beach, California, for the Cross Examination Debate Association's National Tournament, or CEDA Nationals. The tournament was hosted by California State University at Long Beach. The team of Sam Leyba, senior in philosophy, and Ben Engle, freshman in microbiology, competed in the tournament as the team K-State EL.
K-State EL went 5-3 in the preliminary debates and cleared to the triple-octafinals round. They won their triple-octafinals debate on a 3-0 decision against George Mason University. They finished the tournament in the double-octafinals against a team from Rutgers-Newark. Sam and Ben ended their season as one of the top 32 out of 102 teams competing in the prestigious national tournament.
K-State Debate also ended the season with a series of academic accomplishments. Leyba and Engle were each awarded the CEDA All American award. This award is given to students who demonstrate competitive success, academic success, good conduct and contributions to their squad.
Additionally, K-State British Parliamentary Debater Sofia Scavone, Master of Public Health student, also received the Midwest Debate Association's Debate Scholar of the Year award. Scavone was the first-ever recipient of this award, a recognition of her accomplishments in both academics and competitive debate.
K-State Debate competes in both British Parliamentary debate and NDT/CEDA-style policy debate. The team is always looking for new debaters, and have room for debaters of all levels of experience. If you'd like to learn more about how to get involved with the K-State Debate team, contact director of Debate, Professor Alex McVey.