February 25, 2019
New task force to create stronger curriculum for K-State 360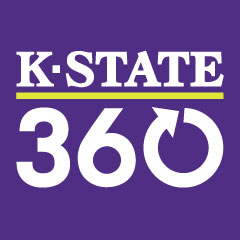 The K-State 360 Curriculum Task Force, made up of 26 individuals from across the university, was formed earlier this semester.
The goal of the task force has been to develop a list of requirements of events and activities for students to complete outside of the classroom during their time at K-State. The overall purpose of the change is to create a stronger curriculum to ensure students are well prepared in the six competencies of K-State 360 when they graduate. The task force has been working to ensure that K-State students are getting the most engaging and impactful experiences available on campus. The task force is divided up into three groups, each tasked with completing the curriculum for two competencies.
Communication and career development:
Myranda Kimble, team leader, professional development advisor, Career Development, College of Business Administration.
Deana Core, assistant director, transfer coordinator, New Student Services.
Patricia Hudgins, associate director, Career Center.
Laurel Moody, assistant dean, Office of Student Life.
Julie Gibbs, director of health promotion, Lafene Health Center.
Kelly Getty, associate professor, animal sciences and industry.
Shannon Washburn, assistant dean of academic programs, College of Agriculture.
Roger Schieferecke, assistant dean and director, Center for Student Success and Professional Services, College of Education.
Alexander Trout, area coordinator for residence life, Housing and Dining Services.
Teamwork and problem solving:
Jodi Kaus, team leader, director, Powercat Financial.
Travis Redeker, associate director program management, Recreational Services.
Levi Esses, associate director, New Student Services.
Wendy Queal, academic advisor, art department.
Anna Hasler, graduate assistant, International Student and Scholars Services.
Austin Anderson, director of student engagement, College of Human Ecology.
Jennifer Thornburg, retention coordinator, College of Engineering.
Jordan Pieschl, coordinator for recruitment and retention events, College of Agriculture.
Diversity and leadership:
Lindsay Kubina, team leader, access advisor and outreach coordinator, Student Access Center.
Kiley Moody, team leader, managing director, Scholar Services, Academic Achievement Center.
Arin Dunn, director of student-athlete development, K-State Athletics.
Debra Bolton, director of intercultural learning and academic success, Diversity and Multicultural Student Affairs.
Jake Speirs, international student advisor, International Student and Scholar Services.
Kaitlin Long, program administrator, Staley School of Leadership Studies.
Danna Voegeli, APDPro coordinator, College of Architecture, Planning and Design.
Sara Heiman, assistant director for leadership, Center for Student Involvement.
Danielle Badgett, area coordinator for student development, Housing and Dining Services.
The K-State 360 team is extremely grateful for all of the hard work and time each member has been put into this role. Great things are coming for the future of K-State 360. Keep an eye out for more updates as they are made available.
Questions about K-State 360 can be directed to Christa Dell'Isola, program coordinator, at 785-532-6541.