February 25, 2019
AGC Student Chapter travels to Florida for winter break service project
Submitted by Hannah Stallbaumer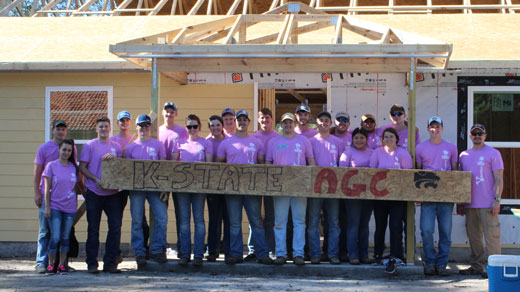 The Associated General Contractors of Kansas Student Chapter at K-State, from the GE Johnson Department of Architectural Engineering and Construction Science, recently returned from its annual winter break service project. Twenty-one chapter members, including a faculty advisor, participated in Habitat for Humanity's Collegiate Challenge program from Jan. 13-19.
The students, along with faculty advisor, Shannon Casebeer, assistant professor of architectural engineering and construction science, traveled to Palm Coast, Florida, and spent four days building a new Habitat for Humanity home for a local young family. For the 1,500-square-foot home, the group framed all the interior walls of the home, installed interior wood blocking, set pre-engineered roof trusses, installed roof sheathing, installed windows, and sided the exterior of the home.
Kelsey Robinett, sophomore in architectural engineering and AGC student chapter Alternative Break chair, coordinated the group's trip to Florida through Habitat for Humanity's Collegiate Challenge which has provided safe, affordable homes for qualifying families and opportunities for winter school break volunteer work for college students since the late 1980s. This year's trip marks the AGC student chapter's 11th consecutive year of participating in the Collegiate Challenge. Previous service project trips include: 2009, 2010 and 2011 in New Orleans, Louisiana; 2012 in Joplin, Missouri; 2013 in St. Louis, Missouri; 2014 in Goldsboro, North Carolina; 2015 in Mobile, Alabama; 2016 in Taos, New Mexico; 2017 in Birmingham, Alabama; and 2018 in Mobile, Alabama.
Architectural engineering and construction science students who participated were Chance Braun, sophomore, Andover; Eric Peterson, senior, Baldwin City; Alec Coast, sophomore, Cimarron; Nick Wintjen, senior, Coffeyville; Marisol Munoz, junior, Dodge City; Jediah Rose, sophomore, Frankfort; Miguel Chacon, senior, Garden City; Brady Mulroy, sophomore, Holton; Maddison Jarman, junior, Lake Quivira; Aaron Ridder, sophomore, Leoti; Ben Kufahl, sophomore, Onaga; Dawson Borcherding, senior, and Caleb Hughes, senior, both from Overland Park; Tyler Collins, sophomore, Rose Hill; Hannah Stallbaumer, junior, Seneca; Randal Chushuk, senior, Stilwell; Aaron Henke, sophomore, Tipton; Kelsey Robinett, sophomore, Topeka; Sam Wohler, sophomore, Wamego; and Tyler Boss, freshman, Richmond, Missouri.